The nation's capital features one of the leading atheistic evolutionary museums in the world: the Smithsonian Natural History Museum.
Because millions of people visit Washington, DC, each year, we decided to reach into this influential city and let people know about a museum where they can learn the truth concerning origins, God's Word, and the gospel—the Creation Museum.
We also wanted people to know that this year kids twelve and under can come to the Creation Museum free of charge with a paying adult.
Continuing for a month, and 480 times a day (20 times per hour), a special series of three digital billboards are now on display on the corner of Seventh & H Street. Using spectacular animated artwork, the boards advertise the Creation Museum in our Cincinnati/Northern Kentucky area.
Because the Smithsonian teaches children an evolutionary, millions-of-years fictional story about dinosaurs, we decided to use our new $1.5 million Allosaurus exhibit as the basis for this digital billboard outreach.
Here is a mock-up of how the digital billboard looks: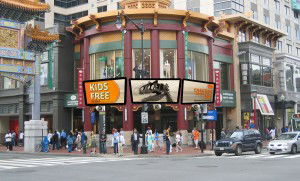 Here is a video of the billboard during its fifteen-second run time:
This billboard outreach is just four blocks from the Smithsonian National Museum of Natural History and the National Mall. It is located across from the Smithsonian Art Museum and the Verizon Center. And it is less than one mile from White House.
To find out more about the Creation Museum's free kids program in 2014, visit CreationMuseum.org.
Thanks for stopping by and thanks for praying—and pray for our outreach into Washington, DC,
Ken