Buddy Davis is a dinosaur sculptor, singer, songwriter, workshop leader, and lecturer on Genesis for kids and adults as part of his ministry at AiG. A number of Buddy's dinosaurs are featured in the large Dinosaur Den exhibit at the Creation Museum. Buddy also conducts a number of family concerts at the Creation Museum each month.
Last week, I made the exciting announcement that Buddy Davis's hit song "Jesus Is Alive" had moved all the way to number 11 on the inspirational country music chart. This is the highest ranked any of Buddy's songs has ever been!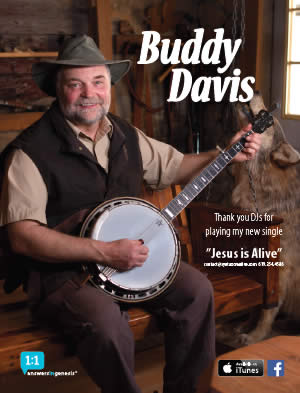 View a PDF you can use to share Buddy's hit song.
But you know, we want to see "Jesus Is Alive" move even higher on the charts—to the top 10! Not only would that be a special achievement for Buddy, but more than that, it would be a great witness to all those who hear the song. We've put together a special ad to promote Buddy's song, but we need your help to make the top ten.
If you want to see uplifting, biblically based songs like "Jesus Is Alive" move into the top slots of the charts, call your local Christian radio station if it plays inspirational country music or even call a country radio station and ask the program directory to play "Jesus Is Alive." You can listen to that song—and send the song to the program director—for free on YouTube or purchase the whole CD album in our online store.
Don't miss this unique opportunity to support the work of a Christian musician like Buddy Davis. Help us get his gospel-centered song into the top 10!
Remember, call a radio station today and then send the program director this link to Buddy's song!
Thanks for stopping by and thanks for praying,
Ken