I'm happy to share a one-of-a-kind youth camp with you that's coming to our northern Kentucky area this summer called Camp Infinity. Ci, as it's called, combines teaching in science and technology with a strong creation-apologetics focus.
Founded by one of our AiG board members, Dan Wooster, the goal of the Ci camps is to teach young people a biblical view of science, using modern technology along the way. Even before starting these camps, Dan had been bringing teams of college students to teach robotics workshops for young people at our Creation Museum for three years now.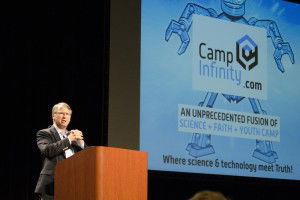 There are still Ci scholarships available for this summer's program for middle school students—July 6–12 and 13–19. To apply and find out if Ci is a good fit for your young person, fill out the online application form. Of course, there's no cost or obligation when you apply. Students can also visit the nearby Creation Museum during camp week.
Ci, states Dan, "will inspire young people to discover wonder and amazement in everything they see in the world around them, and will teach them to face each day with an insatiable curiosity that drives them into a closer relationship with the Infinite One who created it all. Camp Infinity is where science and technology meet Truth!" See campinfinity.com.
Thanks for stopping by and thanks for praying,
Ken