Outside of the Grand Tetons and Yellowstone of Wyoming, my favorite place to visit in America for scenery is Alaska. The word I think of to describe it is grandeur. That's why we at Answers in Genesis are hosting a trip to Alaska! Dr. David Crandall and Steve Ham (AiG's senior director of outreach) are leading AiG's second seminar at sea and Alaskan cruise.
If you haven't signed up yet, we still have available cabins—but don't waste time, because they're going quickly! This summer cruise is a great learning experience, and you'll explore one of the most beautiful places in the world.
The seminar at sea is an incredibly educational time, this year featuring Steve Ham and his talks on apologetics. The cruise includes stops in Juneau, Skagway, and beautiful Victoria, Canada.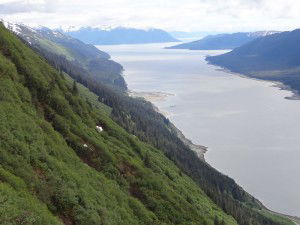 Departing from Seattle, the AiG Alaskan cruise will travel for seven days—from June 29–July 6, 2014. Each cabin will receive a $50 on-board credit, and guests will even get to enjoy the Fourth of July in Alaska and view fireworks from the ship.
This is the thirteenth cruise that Dr. Crandall has led—he is indeed a "cruise insider"—and his experience will make this a wonderful cruise on the sea. Be sure to review the cruise page at the link below for information.
Don't wait—reserve the cabin of your choice for this incredible trip today!

Sign up soon to guarantee the price and the cabin availability. For cabin and sign-up information, visit the cruise page or call Dr. Crandall at (859) 250-5258.
I encourage you not to miss out on this exciting learning experience at sea.
Thanks for stopping by and thanks for praying,
Ken