As I've written many times, Legacy Hall here at the Creation Museum has become a venue where other Christian organizations can host their special events.
A couple of weeks away on May 9 one of those events will take place at Legacy Hall. Some Christian comedians will be hosting a fundraising event, "A Night of Comedy and Short Film FUNdraiser," to raise money for the production of more of what they call "redemptive films." Among the people here on May 9 will be Thor Ramsey (of the Thou Shalt Laugh video), Tyler V. (a kid comedian who was "discovered" by TV's America's Got Talent), emcee Dennis Tooley, and ventriloquist David Pendleton.
Also here will be well-known actor Stephen Baldwin, who will be doing a meet-and-greet prior to the event.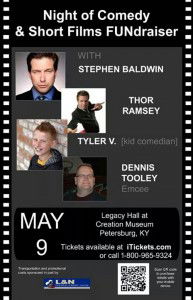 It is our hope that as these special guests tour the museum and develop possible film ideas, that they will do a much better job in producing movies than what we have recently seen with so-called "Bible" films such as Noah and instead show the truth and authority of Scripture.
Tickets to the event, including VIP passes to meet Stephen Baldwin, are available on iTickets. You can also purchase discounted Creation Museum tickets through iTickets along with your comedy night tickets. (Please keep in mind, though, that these discounted comedy night tickets are not valid for our "Kids Free in 2014" promotion.)
You know, I find it "funny" that secularists sometimes will portray Christians as somber people who can't have fun. Maybe some of these skeptics will come to the museum on May 9 and not only be exposed to our Bible-upholding teachings but also spend the evening listening to some funny comedians. Yes, the Creation Museum can be a fun place.
Thank for stopping by and thanks for praying,
Ken