Winter is definitely here in northern Kentucky, and as the snow and winter weather is setting in across America, it's a great time to think about sunny days in beautiful southern California.
You see, the 2014 Answers Mega Conference will be hosted in Costa Mesa, California, on July 21–25, 2014.
This would be a perfect Christmas present for your family—a vacation and a time of equipping with some excellent speakers. Imagine the smiles on your kids' and teens' faces when you tell them Christmas morning that you are taking the whole family to southern California this summer. What's more, the family conference is just 20 minutes from the beautiful California beaches. And many family attractions are also nearby.
With exceptional speakers such as Ray Comfort, Todd Friel, Eric Hovind, and Brian Edwards as well as all your favorite AiG speakers along with myself, it will be a family conference you won't want to miss. Special programs for children and exciting teen sessions make this an event the whole family will enjoy.
And as an exciting bonus, we have extended the super early bird special to January 31, 2014. Register now and save 30 percent! I urge you to visit www.AnswersMega.org for complete details and register today for this special conference.
Hurry, and take advantage of this super early bird discount. As much of America shivers right now, here is a photo to encourage you to think about coming to California: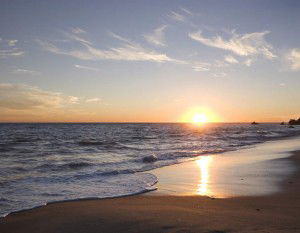 Thanks for stopping by and thanks for praying,
Ken