Have you ever heard the question asked, "What does this Bible verse mean to you?" Personal opinions that are not rooted in Scripture have become commonplace in the church today. So I want to share with you a special DVD resource by Todd Friel called Herman Who? Read It Right . . . a Hermeneutics Primer.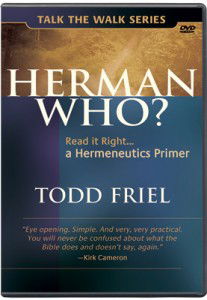 This excellent, easy-to-understand resource is appropriate for teens through adults. Here at Answers in Genesis and the Creation Museum, our mission is to equip the church to defend the Christian faith and to answer skeptical questions. But we can't do either of those if we don't understand how to read our Bibles. Todd Friel teaches viewers—at a lay level—how to read and interpret Scripture using what's called the "historical-grammatical hermeneutic."
Here is how this high-quality DVD presentation is described on our online store:
Ask most Christians what they know about hermeneutics and they will probably ask, "Herman Who?" Spend 75 minutes with Todd Friel, and you will receive a condensed 16-week master's level education on how to read the Bible right. You will never read the Bible the same way again . . . and you will never have the wool pulled over your eyes by a false teacher.

Paul told Timothy (and us) to "Be diligent to present yourself approved to God, a worker who does not need to be ashamed, rightly dividing the word of truth." By studying this course, you will be equipped to rightly divide the Word of Truth and read the Bible right.

Parental note: Issues of homosexuality and adultery are among topics discussed. Includes the complete updated study guide. Perfect for individual or group study.
It's Christmas time, so why not buy a gift that will aid your friends and family members in "rightly dividing the word of truth" (2 Timothy 2:15)? I encourage you to get on our website and order your copy of
Herman Who?
and Todd's
other teaching kits
today!
Thanks for stopping by and thanks for praying,
Ken
This blog post was written with the assistance of Steve Golden.