A couple visiting the Creation Museum this past week had a very interesting story to tell us.
Jeff is from Sevierville, Tennessee (where we will be holding our national family conference in July, by the way). Ellie is from Tokyo, Japan. They have been doing a Bible study via Skype and then began corresponding. They decided to meet in person, so she came to the U.S. a week ago. The place she wanted most to visit in America was the Creation Museum—so they decided to meet here!
Here is photo of the couple taken at the Foto FX booth at the Creation Museum: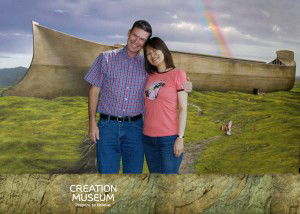 Helped Bring Me Back to My Savior
We receive so many wonderful testimonies from those people impacted by the ministry of AiG. Here is one received recently:
Thank you for creating this website! I happened upon it a week ago and have not been off it since! (Ok, I'm exaggerating, but not much.) Your article archives and question and answers make far more sense than any evolution/big bang theory I've heard! You've no idea how much this has helped and is helping bring me back to my Savior. And my 5 children as well. You've reminded me to be proud of my Savior, and how lowly I am for needing reminding. Thank you again.
Thanks for stopping by and thanks for
praying
,
Ken