On Memorial Day weekend, the Creation Museum will open two new spectacular exhibits and the best zip-line course (2.5 miles of zip lines and 12 bridges, etc.) in our tri-state region. One of the new exhibits will fill the large portico of the Creation Museum—filled with dragons!
With all-original spectacular artwork, intriguing portrayals of many dragon legends, hundreds of Chinese lanterns, two large colorful dragons from China and intriguing artifacts, this dragon display will be unique and awe inspiring. The question will be posed to our guests, "Were Dinosaurs Dragons?" I have seen the behind-the-scenes work on this massive exhibit, and I can say I've never seen anything like this in my travels around the world.
Over the summer months, AiG will be conducting a new billboard campaign, primarily in six cities that are less than a two-hour drive from the museum: Cincinnati, Columbus, Dayton, Indianapolis, Louisville, and Lexington. The month of June will feature billboards advertising the dragon exhibit, July will highlight the world-class insect exhibit, and August will feature the incredible zip-line course.
I wanted to give you a little glimpse of the coming dragon billboard campaign:
1. Here are just two of the illustrations our marketing agents (Joseph David Advertising) for the dragon billboards: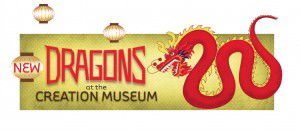 2. Here are two photographs of the company making the vinyl for one of the billboards:
These dragon billboards will be spectacular!
Of course, the atheists will probably go berserk as they did last year in response to our dinosaur billboard campaign. I'm glad they will have something new to complain about.
AiG will be aggressively marketing the Creation Museum to families so that even more parents, teens, and children will get to hear the truth of God's Word and the gospel.
This coming year (beginning July 1) we should reach, and exceed, the 2 million mark for visitors to the Creation Museum.
Thanks for stopping by and thanks for praying,
Ken