Well, let me explain that headline!
One of our brilliant scientists at AiG is Dr. David Menton, who holds a PhD in biology (from an Ivy League school). He will be hosting a special exhibition during our national family conference in the Great Smoky Mountains of Tennessee (about four and a half hours from our Creation Museum) that we call the "Answers Mega Conference." The dates are July 22–25, with a bonus, "technical," in-depth session on July 26 at no extra cost.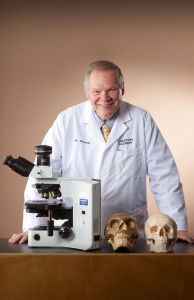 With his portable exhibit, "Three Ways Evolutionists Make an 'Ape-man,'" Dr. Menton will show a display of museum-quality replicas of hominid skulls and a human skeleton. He will also conduct informal discussions regarding the similarities and differences between apes and humans—just as he does with a high-tech laser exhibit and video inside the Creation Museum (which many of you have seen near the museum's main hall).
Since the Bible makes it clear that God created man in His own image, the evolutionists' so-called "ape-men" are either apes or humans. In his own engaging way (he is a tremendous communicator), Dr. Menton will show your family that just a basic understanding of human and primate anatomy makes it quite easy to distinguish the two.
Visit www.answersmega.org for complete conference details and to register. I encourage you to look at the list of excellent speakers, which includes Tony Perkins of the Family Research Council and Todd Friel of the Wretched radio program. My friend and excellent communicator Eric Hovind will speak, and I am especially looking forward to hearing a talk by Dr. Mark Coppenger of Southern Seminary on bioethics—a hot topic nowadays. Special sessions will also he held for children and teens (which includes talks by the dynamic Bill Jack), so it's really a family conference.
Important: you can save 20 percent when you register before April 30!
Once again, we will be using the excellent facilities of the Sevierville Convention Center. There are plenty of family attractions in the area—so many in fact that we are blocking off some free time in the afternoons for your family to enjoy them—and many offer discount tickets for conference attendees.

I hope to see you in beautiful Tennessee in July! With all the learning and fun, we call it "edu-tainment."
Thanks for stopping by and thanks for praying,
Ken