Every Tuesday and Thursday (and sometimes other days) the entire AiG staff gathers first thing in the morning for a time of prayer, announcements, and sharing God's Word. Our speakers usually come from outside the ministry. However, staff member Bill Campbell recently shared some wonderful anecdotes about the property upon which our Creation Museum and AiG headquarters are located.
You see, Bill's father owned this land back in the 1930s. Bill shared with our staff how he had played here as a child in the 40s and 50s. He was absolutely thrilled several years ago to learn that his family's land was going to be used for the Creation Museum and future AiG headquarters (his father had sold it several years before). Bill, with a tear or two rolling down his cheek at our staff meeting, said that his late father would have been so happy to know that his land was being used to proclaim the gospel and the full authority of the Bible.
Bill and his wife Mary have been serving at the museum for several years, and he counts it a joy to be here on "his land" and serve our guests.
Here are two photos of a beaming Bill on the museum property. He is happy to know how his family's former land is being used for ministry.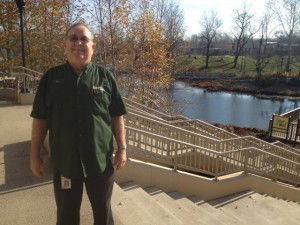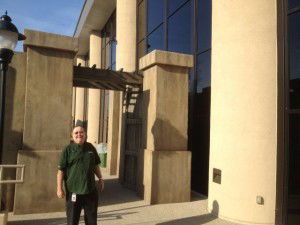 Another recent speaker had what we jokingly referred to as the "longest business card in the history of the world." Dr. Adam Greenway wears several hats.
First, he is the chairman of the board of trustees of Lifeway, the large Christian resource group affiliated with the Southern Baptists. Dr. Greenway is also the president of the Kentucky Baptist Convention—the association of all the Southern Baptist churches in our home state. And he also teaches evangelism and apologetics at Southern Seminary in Louisville. As if that were not enough, he is also the interim pastor at Hebron Baptist Church in Kentucky (about five miles from our Creation Museum).
Dr. Greenway gave our staff a wonderful devotional on the connection between the book of Genesis and the gospel message, and he did it with a lot of passion for the gospel. Dr. Greenway and his wife Carla visited our museum for the first time, and we were glad to host them.
The SBTS website has a photo and biography of Dr. Greenway on his page.
Thanks for stopping by and thanks for praying,
Ken