Last night I spoke to hundreds of students at Bob Jones University who packed into Stratton Hall on the campus of this Christian university in South Carolina. It was so thrilling to experience the "buzz" at the end of my presentation.
AiG has had a long relationship with several leaders and professors at this Christian institution—a school that takes an ardent stand on a literal Genesis, young earth, six literal days, etc.
When I speak at Christian colleges, our publisher (Master Books) works with us to provide a number of our powerful apologetics materials at super prices so the students can afford them. This is a special ministry for us as we understand the vital importance of equipping the coming generations with apologetics resources to enable them to be equipped to do battle in the spiritual war going on around us.
AiG board member (and retired professor from BJU) Dan Wooster introduced me to the students: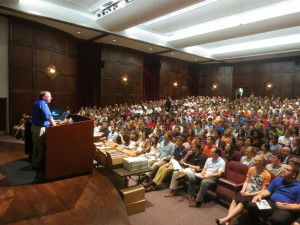 I do count it a real privilege and special opportunity to be entrusted to influence the lives of these young people: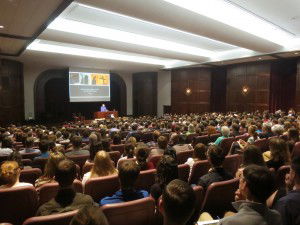 After I spoke, students stood in long lines to obtain the resources: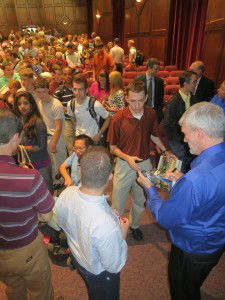 You can find out more about Bob Jones University at www.bju.edu.
Yesterday morning, I had the opportunity to speak for three hours to writers at Bob Jones University Press. These are the people who write the unique BJU Press Christian and home school textbooks.
The Lord certainly opens special doors for us so we can partner with others who are like minded, as we do our best to reach young adults with the truth of God's Word and the gospel.
Thanks for stopping by and thanks for praying,
Ken