Many professional sports teams come through Cincinnati each year—either to play the Cincinnati Reds in baseball or the Cincinnati Bengals in football. While in town, players on these visiting team sometimes take an opportunity during a free part of their day to tour our Creation Museum. We recently had a few players from the Milwaukee Brewers visit at the suggestion of their bullpen catcher, Marcus Hanel.
In this photo, you can see me on the far left and Mark Looy of our staff on the far right with the following people (from right to left): pitcher Tim Dillard, Jonathan Lucroy (one of the best catchers in baseball), Marcus Hanel, Travis Ishikawa, a first baseman and outfielder, and on the left near me are Tim Dillard's parents from Mississippi—father Steve played in the major leagues as well. Son Tim is one of the funniest people you will ever come across. He can do imitations of well-known sports announcers. If you go to YouTube and search his name, you'll see how he can do some excellent imitations.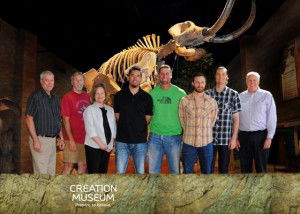 We certainly do meet lots of interesting people at the Creation Museum.
Thanks for stopping by and thanks for praying,
Ken