As I've said many times, the Creation Museum is a wonderful place for Christians to bring families. I've had many parents tell me they just love to bring their kids to the Creation Museum, as they know it is a family-friendly place. They don't have to worry about what their kids will see, read, or hear because they know their children will be taught the authority of the Word of God in an uncompromising way.
As part of our commitment to providing such a family-friendly Christian facility, one of our supporters has funded a program to help young people and adults have an enriching program for families. It is an archery program. In fact, our family has the archery equipment so we can have fun together as a family. I find it enjoyable and also good exercise. This Creation Museum's new program is also an opportunity for families to invite children and their parents who may not necessarily visit the Creation Museum. It can be a great opportunity for witnessing to them.
This program has been in development for quite some time at the Creation Museum, as we had to find a place for the range, build equipment, and train staff members. Last fall we concluded much of our training when we conducted two programs for the children of staff members.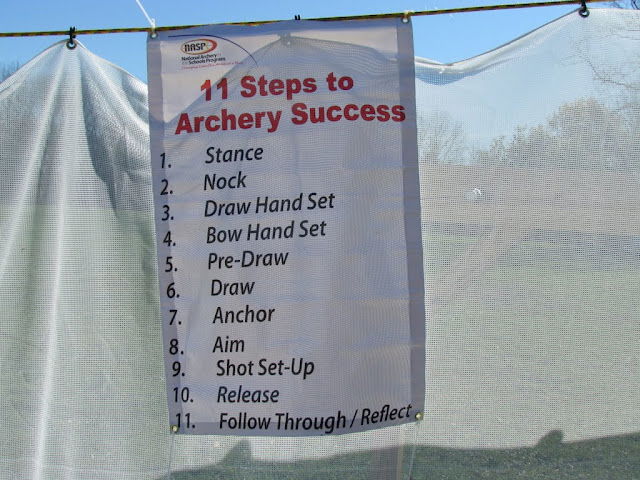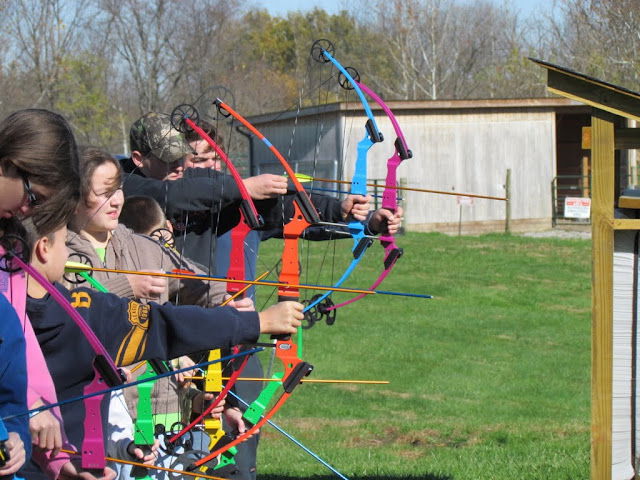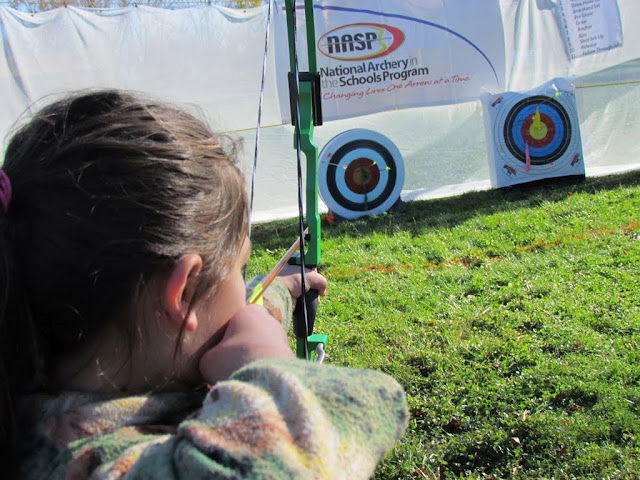 Don't miss out! This spring you can sign up for one of these programs for your children. Here's what our museum team has told me:
During this program, children will learn eleven consecutive steps to follow to achieve life-long archery success. These steps will guide the archer from initial form on the shooting line through execution and reflection of each shot. Archers will use state-of-the-art Genesis bows by Mathews. Each bow is designed to fit any child. Participants shoot at 80-centimeter bulls-eye targets placed before an arrow curtain.

This program is designed to teach international-style target archery to children in fourth through twelfth grades using lessons developed by the National Archery in Schools Program. This was developed for use in schools' physical education classes—the core content covers archery history, safety, technique, equipment, mental concentration, core strengthening physical fitness, and self-improvement (read about the NASP mission).

Before presenting the course, teachers undergo an eight-hour NASP Basic Archery Instructor Training Program. The regular NASP program is intended to reach out to students within schools and engage them in a rewarding program. The NASP method of training yields a very high success rate for students. The program that kids enjoy here at the Creation Museum is one which they can even pick up when they return home via a local chapter of NASP.
By the way, I can personally attest to the rewarding nature of archery and the usefulness of NASP training methods.
You can find out more about this program at the Creation Museum at this link.
To me, providing such programs is a part of helping families to provide wholesome Christian-run programs for families and their friends, and at the same time, use it as a way of reaching others with the message of the truth of God's Word and the gospel.
I encourage you to see if you can become involved in this very popular activity that will be run by trained professionals.
Thanks for stopping by and thanks for praying,
Ken