I loved this testimony received from Sarah Ishida recently:
Answers in Genesis excites me because it dreams big and exercises creativity while proclaiming biblical truth. From the A is for Adam children's book to the latest Ark Encounter endeavor, Answers in Genesis has touched thousands of minds and hearts.

Answers in Genesis personally touched me when I was a teenager. I had sent a hand-written letter telling "to whom it may concern" that I was interested in someday serving with this ministry. "To whom it may concern" turned out to be an AiG staff member who responded to me with a hand-written letter of his own.  I later met him while attending Creation College 3. During this event I also met Mr. Ken Ham and had him sign the "My Little Pony" I had painted featuring the Answers in Genesis logo. Mr. Ham obliged with a smile.

Now as a senior humanities major at Bob Jones University, I am as interested as ever to work with Answers in Genesis. Like Answers in Genesis, I have big dreams and a desire to influence individuals for the Creator. After graduation, I hope to pursue an MA in philosophy of religion while continuing to serve as the curriculum illustrator at my church. In addition to illustration, I also enjoy writing and have had a short story accepted for publication—someday I hope to say the same for my novel.  I am eager to see what God has for the future of Answers in Genesis. As the owner of an ark plank, I look forward to attending the grand opening of the Ark Encounter—perhaps I'll even take my pony along.
Sarah also had a pony autographed by AiG illustrator and cartoonist, Dan Lietha.
Here are two photos Sarah also sent: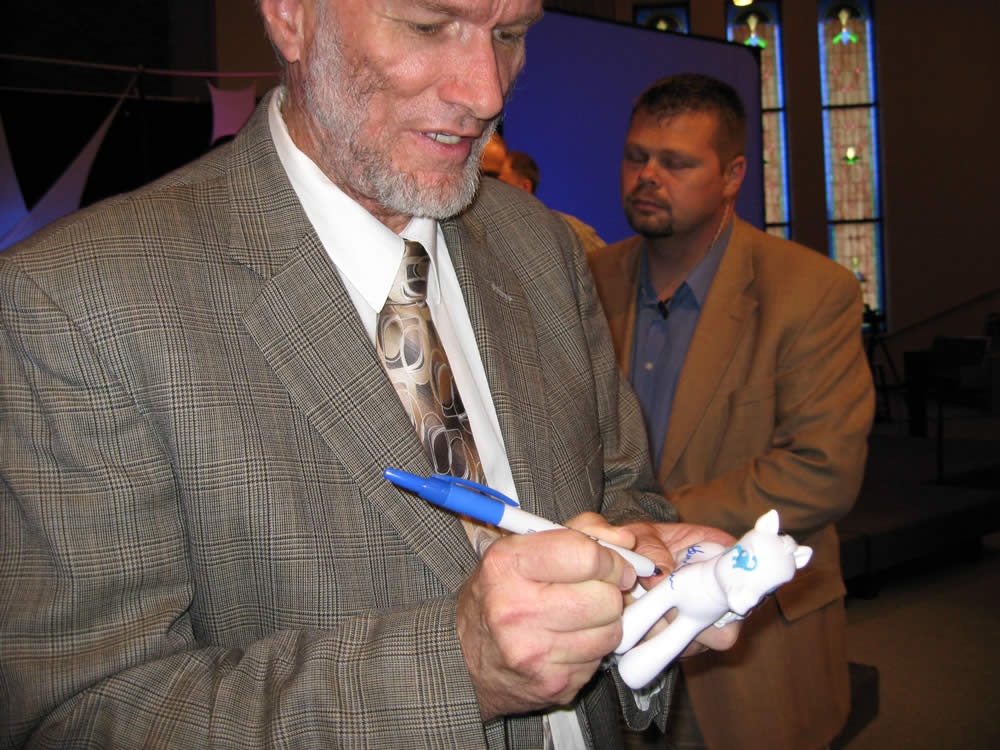 Greatly Expanded Digital Downloads
AiG has greatly expanded the number of books available for digital download. You can download these for use on iPad, iPhone, iPod, Kindle, Nook, etc. Go and check out the store (and while there check out the video and other downloads now available).
In Western Kentucky This Weekend (Sunday and Monday)
Dr. Terry Mortenson and I will be conducting an AiG conference at Paducah, Kentucky, this Sunday and Monday. For details, go to the event page.
Thanks for stopping by and thanks for praying,
Ken