Our first major promotion of the new upcoming AiG Sunday school (entire Bible) curriculum entitled Answers Bible Curriculum is underway.
Answers in Genesis is announcing and talking with church workers about our new Sunday school/Bible curriculum (Answers Bible Curriculum) at numerous conferences this winter and into the summer. The "ABC" curriculum is a huge undertaking of AiG, but the lessons I've seen so far remind me that truly excellent teaching material requires a LOT of effort.
Here is a summary of the Answers Bible Curriculum that was sent to me by our curriculum department:
In the case of ABC, we have over a dozen writers, editors, artists, and others directly and heavily involved. Most of those are full-time or nearly full-time on just this one mammoth project. (In case Answers Bible Curriculum is new to you, it's being designed for all seven major age groups in the church—from pre-school all the way to "seasoned citizens"—and it covers the entire Bible from Genesis to Revelation.)

We started this undertaking about two years ago, as a result of the great need that the Already Gone book research revealed, especially as it was so clear that most Sunday school materials today are loaded with fluff. In fact, the Already Gone research revealed that young people who get fed the material that's in the average Sunday school program are actually MORE likely to be in favor of abortion, more likely to accept "gay" marriage, and more likely to leave the church once they are out on their own!

ABC is non-denominational and will be suitable for Sunday school, Home School, Christian School, Bible studies, etc. etc .
Pray with us that the thousands of Sunday school teachers and other church leaders who are attending the national conference where we currently have our booth set up will be burdened by the Holy Spirit to seriously consider using this faith-strengthening, life-changing program in their own church! It is so very needed today.
The photo below was taken at the "Children's Pastors Conference" (going on this week in Orlando, Florida). Due to a mix-up in the delivery paperwork, the booth almost didn't get delivered to the convention hall in time, but when it finally did arrive, our people got it up with just minutes to spare! AiG's head of resource distribution, VP Dale Mason, reported to me  that he's very encouraged that hundreds have already come by the booth and many expressed great excitement that they will finally have a church-wide Bible curriculum that will bring the family closer together as it teaches foundational apologetics in age-appropriate ways.  You see, all ages study the same general topics at the same time, making it quite natural to discuss the material during the week. (Our web team is still developing the website that we will announce later for ABC, but for now we have a single web page plus some sample downloads you can look at. More info on this exciting subject as we head into the spring months!)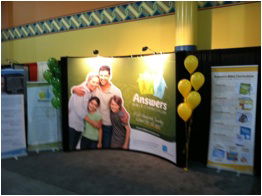 Part of the booth display. (There are sample lessons printed and available for attendees to take, plus a TV playing an informational video, and catalogs describing both Answers Bible Curriculum and our new VBS for this coming summer, IncrediWorld.)
You can find out about the Answers Bible Curriculum at this link that will soon be updated with much more information the closer we get to the official release:  www.answersingenesis.org/answers-bible-curriculum Thanks for stopping by and thanks for praying,
Ken