Now I knew that headline would get your attention. Yes, we do have Santa at the Creation Museum—well sort of!
As we are holding eight special days of Christmas celebrations at the Creation Museum called Christmas Town, we have created a new display that centers on the real meaning of Christmas. As guests enter the portico of the museum, they will see a display that discusses the origins of some holiday icons like Santa Claus and how such figures detract from the centrality of Christ during Christmas.
The photo of this new display was taken on a cell phone, so it's not the best in the world; we just wanted you to be aware that with everything we do during our eight days of Christmas Town activities, it all points to the Babe in the manger.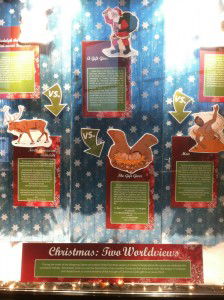 Look for this new display in the Creation Museum (put together by two of our bookstore staff members) on the left side of the portico. We give this fictional character the publicity he really should get!
For information on Christmas Town here at the Creation Museum in northern Kentucky, go to http://creationmuseum.org/christmas/.
The following photograph was taken in Legacy Hall as people were coming in Saturday evening for one of the spectacular dramas: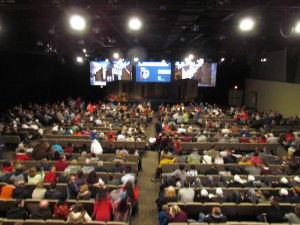 Thanks for stopping by and thanks for praying,
Ken