When AiG was constructing the Creation Museum during the last decade, we sought out some well-known Christian leaders to publicly back our museum project. Those partnerships helped lend more credibility to the museum, especially to help find other Christian leaders to get behind the evangelistic museum.
One of the first Christian leaders to join our advisory board was Dr. Paul Dixon, who was the president of Cedarville University (Ohio) at the time. Dr. Dixon had toured the Creation Museum just before it opened in 2007, but he had not yet visited the finished museum. (He spends much of his time in Florida and Tennessee nowadays; although as Chancellor of Cedarville University, he still visits our region from time to time.) During a Bible conference at Calvary Baptist Church in northern Kentucky where he was the speaker, he dropped by during a break and got caught up with our ministry and posed for a photo with me.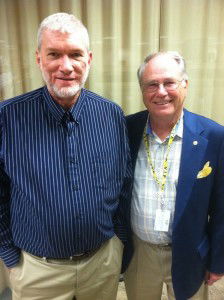 I am encouraged there are some Christian colleges like Cedarville University (CU) that are standing on the authority of the Word of God beginning in Genesis (the majority of Christian colleges do not). I am happy to say that Cedarville University is one on our rather small list of colleges that believe in the book of Genesis as real history (see www.CreationColleges.com). Also, when our visitors tour the Creation Museum, they will notice that some of our special programs are sponsored by CU; also, you frequently see CU ads in our Answers magazine.
To find out more about this college in central Ohio and its science programs (many of its faculty scientists have become good friends of AiG), go to www.cedarville.edu.
Before becoming the president of Cedarville University in 1978, Dr. Dixon served as an evangelist for 14 years. In 2003, he became the chancellor of Cedarville. During his tenure as president, his student body almost tripled in size and the campus grew from 180 acres to 480 acres. His son Scott is a professor at Cedarville. I also learned that Dr. Dixon received his doctorate in education from the University of Cincinnati, which is not too far from our Creation Museum.
A Flood of Memories
We are welcoming two creationist leaders to the Creation Museum today and tomorrow. They will be speaking at our conference inside the museum that will celebrate the fiftieth anniversary of the classic book
The Genesis Flood
.  That would be the book's co-author, Dr. John Whitcomb, and Dr. John Morris, son of the other co-author, Dr. Henry Morris (John is the president of the ministry his father started, which is called ICR).
Here is the schedule for the all-day conference in our new Legacy Hall. You don't need to preregister—it's free to paying museum visitors that day. I will be speaking, plus Drs. Whitcomb and Morris, and also Dr. Terry Mortenson and Dr. Andrew Snelling of our staff. See the event page for more details.
It will be a great time of blessing. If you live in the region, come on by!
Thanks for stopping by and thanks for praying,
Ken