Over four days recently, a film crew for the Samuel L. Collins live-action video series was at the Creation Museum. Each episode features this 15-year old young man as he explores the world and sees it through the eyes of the Bible. "The Search for Biblical Truths" is the subtitle for this series. As an Indiana Jones-type character (though 15 years old), Samuel (his real name) has videos in which he shares messages that the Bible is practical and that young people can apply Scripture to every aspect of their lives.
For one of their upcoming episodes, they filmed several segments—featuring Buddy Davis of our staff—inside our museum. The production should be finished sometime next year.
In the photo, Buddy is in the far left getting instruction from producer John Collins as Samuel in the background looks at some of our dinosaur exhibits.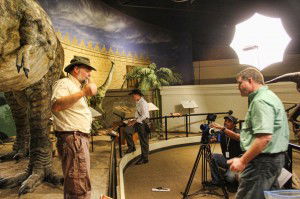 Such filming can sometimes be a challenge to arrange because we certainly don't want to disrupt our regular visitors in the Creation Museum. But this was one of those instances where we could do some "work-arounds" over several days.
Some staff members have watched the first video in the series, which was shot entirely on location on the exotic island nation of Singapore in Asia. See this link to watch a preview of this video.
Find out more about this video series for young people at http://searchforbiblicaltruths.com/.
Below is a photo of the entire crew, with Collins in the middle standing next to Mark Looy, our CCO (the tall one standing in the middle).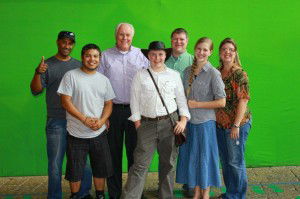 Also, earlier this week a crew from TCT TV (a Christian network based in Illinois that carries our TV program) was here to film the museum and interview me (see http://www.tct.tv/explore.php ). Next week a major TV network from Australia will be touring the museum and interviewing me as an Australian living in America.
Thanks for stopping by and thanks for praying,
Ken