AiG was able to help a 13-year-old home schooler to be able to come to AiG's recent Apologetics Mega Conference. After the conference, her mother wrote the following email to one of our staff:
Dear Dan,  I'm sure by now you have moved on to a host of other duties with the AIG ministry.  However, the impression you left on my daughter Makenna and me will last indefinitely.

Thank you for making the conference possible.  I'm not certain what God is doing with an almost-13-year-old who loves His word, is passionate about learning the foundations for her faith, and who wants to go into nursing  . . .  but I smile just thinking of the  possibilities.

I'm attaching Makenna's essay about her time at the conference.   She has become a big fan of Jason Lisle and Steve Ham and loved her tour with with Dr. Menton. (Our entire family has been longtime fans of Ken.)  She is just certain that she wants to work at the Creation Museum as a summer job one day.  She's also certain that God will provide for her to attend next summer's conference.  I'm wondering if she would be old enough to volunteer for you at that time?  We'll have to keep in touch about that!

Please forward her essay on to as many of the speakers as you can.  I want them to be encouraged at how God used them in the life of this young girl.  I also want them to log this moment, as I expect to report back to all of you in about 6-8 years on just what God has done with the seeds your ministry has planted!

Thank you again.  I hope we have returned back to you a small measure of the blessing you were the vessel for in our lives.  Under His Grace!

Christi

P.S.  She is currently completing the Apologetics 111 online course and will enroll in the Astronomy and Geology courses next Spring.  To round out her science curriculum this year, she received Dr. Menton's DVD set as part of her birthday present and had already begged to study the new curriculum that AIG is carrying called "Evolution: The Grand Experiment" (by Werner).  I mention all of these, because I would love for her  to write "reviews" about them from the perspective of a young student, if there is anyone in the ministry who thinks that using her experience might encourage other families to work more of the AIG materials into their schooling plans.  Please don't hesitate  to ask if we might be used now or in the future.
After reading Makenna's essay, I wanted to share it with all of you—so here it is with photographs she included: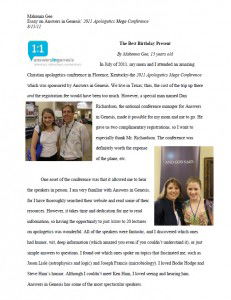 I have met many "Makennas" as I travel around the country and also walk through our Creation Museum. It is encouraging to see that God is raising up godly young people to stand for His Word in this very troubled age.
Thanks for stopping by and thanks for praying,
Ken