Over the past four years we have had many pro athletes visit the Creation Museum. In the past year it has included a Cy Young award-winner in baseball (for the best pitcher in the league), Brandon Webb, a former high-ranked tennis star (who won Wimbledon doubles in the 35-and-above category), David Wheaton, and many others.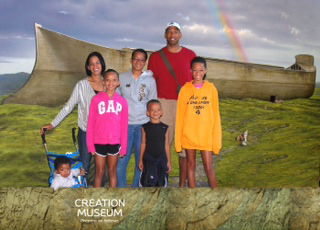 This past week Monty Williams, head coach of the NBA New Orleans Hornets, stopped by with his family. He played in the NBA for several years, and as a coach, his New Orleans team—led by a superstar player (and Christian) Chris Paul—made the playoffs this past season.
Monty told us that the only reason he and his family were in town was to visit the Creation Museum, and so we were honored. He had heard me speak in Portland, Oregon, a few years ago, and I mentioned the museum at the time (located some 2,000 miles away), and it caught his interest. At the seminar he decided to subscribe to our Answers magazine. We gave him a copy of our latest issue (July edition), just off the press.
Here is a link to Monty's biography on Wikipedia.
Thanks for stopping by and thanks for praying,
Ken