Evelyn and Wendy Verner (mother and daughter) visited the Creation Museum this past week, and they may be distant "cousins" of mine. You see, they came all the way from northern Ireland. Although I was born in Australia, a part of my heritage includes a northern Ireland ancestry.
The Verners traveled across the Atlantic ocean specifically to tour the Creation Museum. Wendy, who has a large collection of AiG materials, gave her mother our museum DVD Journey through the Creation Museum, and Evelyn watched it while getting over a sickness. Evelyn knew right then that she wanted to see the museum for herself.
Here is a photo taken of them at the museum's special Foto FX area.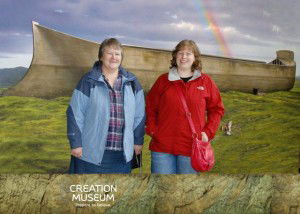 Both ladies told museum staff that they were impressed with the museum and that it was definitely worth the long trip. Evelyn and Wendy were on an AiG tour of Israel several months ago, and Wendy participated in AiG's evangelistic outreach at the 2010 Vancouver Winter Olympics.
By the way, this is an excellent time to visit the Creation Museum. It's before the busy summer season, and our extensive gardens are in bloom and are looking fantastic.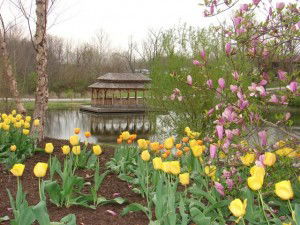 Thanks for stopping by and thanks for praying,
Ken