In recent times, AiG has had the privilege of conducting AiG conferences in a number of Calvary Chapel churches across the nation.  This weekend, I am at Calvary Chapel of San Jose (see this event page for more details).  Next weekend, I will be at Calvary Chapel in Fort Lauderdale (see this event page for more details of this major event).
Recently, we had a special visitor all the way from Oceanside—a pastor of a Calvary Chapel where I also spoke recently.
I'm hearing about a phenomenon time and time again of people flying across the country for the purpose of visiting the Creation Museum here in our Cincinnati/Northern Kentucky area.
That was the case with Pastor Mike Reed and his college ministries pastor, Dan Leitz, of Calvary Chapel of Oceanside in California (north of San Diego). While I was speaking in this church a few months ago, I extended an invitation to Mike to tour the museum (over 2,000 miles away). Well, Mike and Dan were here recently at the museum—unfortunately, I was on a speaking tour at the time and did not meet with Mike. But our staff rolled out the red carpet for Mike and Dan.
A verse Mike uses a lot is Romans 8:28, which states, "And we know that all things work together for good to those who love God, to those who are the called according to His purpose." On his church website, he declares that "the pain and suffering I have endured became the crucible God used to form my very nature." He says that for a reason, and it is a remarkable story that I will summarize here.
In the 1970s when Mike was 10 years of age, he was diagnosed with Aplastic Anemia. Doctors gave him about 200 blood transfusions just to keep him alive. His parents were told by some doctors just to let their gravely ill son "go."
The treatments were failing. He needed a bone marrow transplant (which was a rather new treatment back then and only had mixed success), or he would die.  While his brother seemed to be a good match as a bone marrow donor, doctors at a local hospital refused to proceed with the transplant. They were wondering if Mike would survive the procedure. Mike's parents then found a clinic that was experimenting with new cancer treatments, and Mike went in. It was touch and go for several days, but the new bone marrow seemed to take hold. His body began to heal, but he turned to worldly pleasures, which only made him despair.
A long story cut short: he became a Christian and got healed spiritually. Then in a blood test, it was discovered that Mike had contracted Hepatitis C from one of his many blood transfusions. His liver was now failing. Mike became one of the first people in history to be involved in a "living donor" liver transplant. Even after getting that new liver, he faced many health challenges, especially as with the medicine he now had to take. He eventually returned to his work as the marriage and family pastor of Calvary Chapel Oceanside, and became the senior pastor a few years later.
His church now has a wonderful ministry to the military—the Marine Corps base at Camp Pendleton is right up the road.
Mike is currently going through the Book of Genesis on Sunday. Take a peek at his website and read his full testimony at http://www.calvaryoceanside.org/.
I say this quite kindly: Pastor Mike is a "character." He is one of the most engaging and funny pastors I've ever met. Here is a photo of him sitting in my chair at AiG while I was away, writing me a note: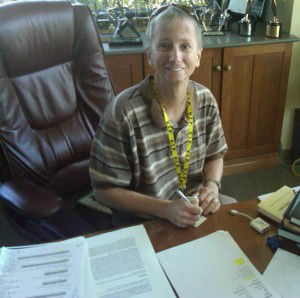 Thanks for stopping by and thanks for praying,
Ken