Despite the shaky economy, and despite the attempts by secularists to misrepresent and attack the Creation Museum in an obvious attempt to dissuade people from attending (as we observed recently in the outlandish untruths leveled at the Creation Museum by LiveScience Senior Writer Stephanie Pappas and the professor she cited; frankly, I don't think she even qualifies as a junior writer because of her numerous misrepresentations). Even then, the Creation Museum continues to bring in visitors at a similar rate to the past couple of years.  We praise the Lord for that.  Here is a photograph taken in the museum's portico last Saturday as over 2,000 people visited the Creation Museum: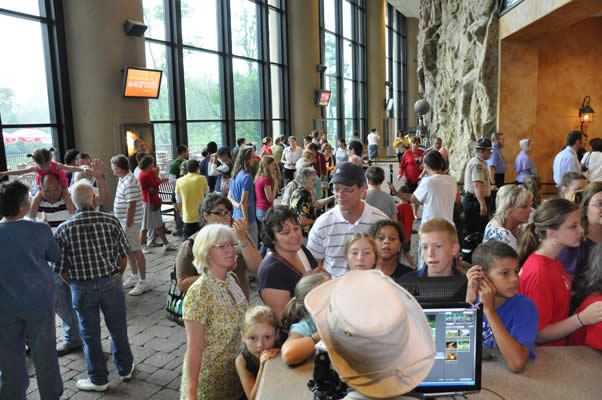 If you haven't read the two articles on the AiG website that deal with what we labeled "especially egregious example of bad reporting,"  then I urge you to do so at these links:
We also praise the Lord that quite a number of news sources have either linked to our two articles above, written their own columns using the information we provided, or even as one secular news source did, question the research method that resulted in the material from a Morehead State University (in Kentucky) professor, who was referred to in the article.  Even some in the secular world were willing to question the supposed results of this extremely poor research. Here are a couple of news items that reference AiG's responses:
One of the items referred to in the article by Pappas concerned the sign we have in a couple of places as one enters the Museum, which gives people the museum's policy in regard to behavior.  Pappas stated, "Particularly nerve-wracking were signs warning that guests could be asked to leave the premises at any time."
In the rebuttals we wrote on our website, we included an actual copy of the sign.  Here is the sign—read it and compare it to what she claimed it said: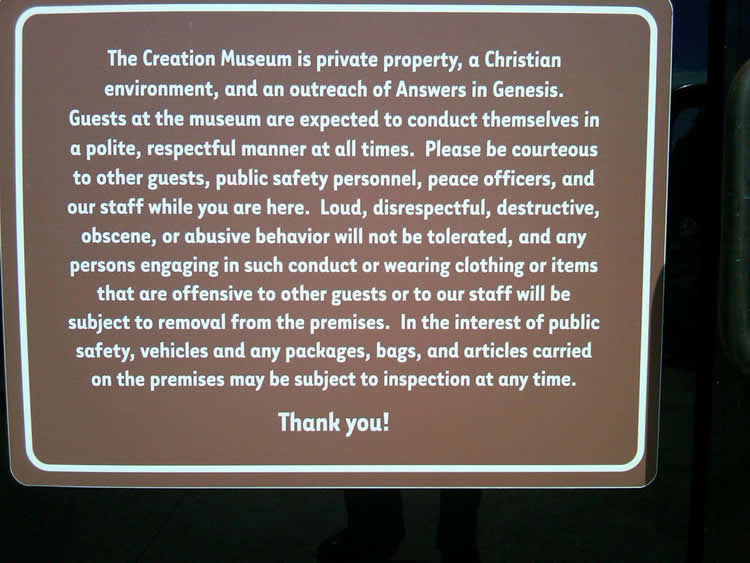 Now here is another piece of information.  Before the group of almost 300 atheists came to visit last year, there was so much chatter on the web by a number of these people that claimed they were going to cause problems at the museum, and would deliberately disrupt in some way (which is the only reason we actually installed these signs). Our legal advisers determined that for the comfort and protection of AiG and its guests, we needed to put up signs containing our behavior policy. That's why those signs are now permanent at the museum.
It was interesting to note, and to her credit, that the organizer of this atheist group was concerned at the chatter about the possible disruption and made each person in that group sign a statement regarding their behavior before they received their entry ticket.  In fact, it was her idea to have them sign this statement, which we did not compose—we didn't ask for this.  She also made sure members of her group were not wearing clothing with extremely offensive wording.
One can also observe how this group of atheists/agnostics treat Christians. Several of them went outside the museum gates during the day of their visit and conducted a mock communion service—to mock the death and resurrection of Christ.  You can view this blasphemous event below on YouTube:
Devotion
Say in your heart

(Deuteronomy 8:17)  And you say in your heart, My power and the might of mine hand has gained me this wealth.

We know we must guard against looking at our hands, and then without even saying words, taking credit in our hearts for our wealth and possessions.
Thanks for stopping by and thanks for praying,
Ken