We had an extra-special visitor at the Creation Museum last week while I was away on speaking ministry in Florida.
Landry McQuire is a five-year-old boy from Missouri who has some major health challenges. Through the Make-A-Wish Foundation, Landry was able to travel with his family to the museum (about 10 hours away by car). That was his wish of Make-A-Wish—to visit the museum (which he did for two days)!
Landry was especially taken by our Utahraptor animatronic dinosaur (see a photo of the dinosaur below, taken from our press-kit).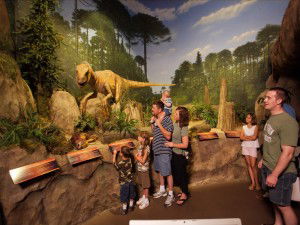 Plus, Landry greatly enjoyed our planetarium program. His parents told our staff towards the end of their second day that Landry had a wonderful time, and that the whole family was treated like VIPs during their tour. (A special thanks to Rachel of our staff for helping to make their visit so special.)
Here are the McGuires—Doug and Joyce, with their children Landry, Levi, and Lydia—with Buddy Davis of our staff.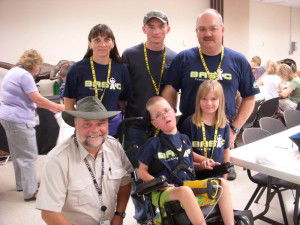 The family has really enjoyed Buddy's gospel music over the years. They also met with our cartoonist Dan Lietha, who was kind enough to draw some dino cartoons for Landry and give him this original art.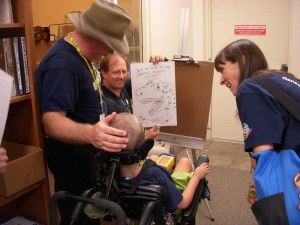 The McQuires told us that they were Creation Museum members well before the museum opened, but because of Landry's health, they found it difficult to travel out here—but Make-A-Wish made it possible to make the trip. Mr. McQuire shared with us that AiG's teaching had made it easier for his family to understand why there is sickness in the world.
Devotion
Charge Joshua, and encourage him and strengthen him

(Deuteronomy 3:28)  But charge Joshua, and encourage him, and strengthen him: for he shall go over before this people, and he shall cause them to inherit the land which you shall see.

We would like to go into all the world to preach, so we send missionaries in our place; we not only support them, but charge, encourage, and strengthen them with prayer.
Thanks for stopping by and thanks for
praying
,
Ken