Recently, the leading (and really the only) publisher in the world that specializes in creation apologetics, Master Books, had an exhibit at the yearly International Christian Retail Show, which was in St. Louis this year.  Here is a photograph of part of the Master Books exhibit: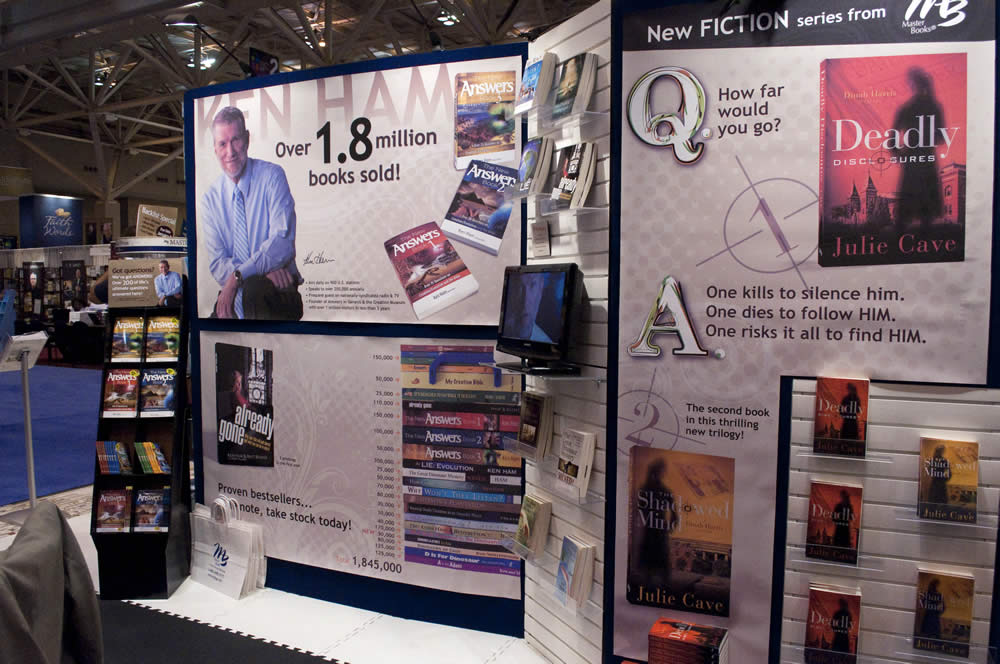 As part of their exhibit this year, they featured books that have me as author, co-author, or general editor, and we praise the Lord that over 1.8 million of those books are in print—and this doesn't count the few years before Master Books was purchased by the New Leaf Publishing Group.  If one added in copies of books (like The Lie, A is For Adam, D is for Dinosaur, and others) published for a few years before the current owner of Master Books, the numbers would be well over 2 million.
AiG and Master Books have distributed millions of biblical creation books around the world.  Our thanks to Master Books' president, Tim Dudley, for his vision for this publishing company and for his sacrificial dedicated support of the AiG ministry.  AiG with Master Books has produced the biggest-selling creation apologetics books in the world today.  I get so excited knowing so much literature is out in the community ministering to and challenging hearts and minds.
The exhibit also featured a new title by Australian author Julie Cave.  Her book Deadly Disclosures is an exciting mystery novel centered around the creation/evolution controversy.
Here is a short video clip Master Books President Tim Dudley recorded especially for this convention:
The Answers for Pastors' Conference—A Great Outreach for Your Pastor
Many (with their wives) have already registered!
Suggest to your pastor that he attend our Answers for Pastors conference in September. If you do, you will receive a free copy of our State of the Nation 2 DVD when he registers.
Just tell your pastor about the exciting upcoming conference Answers for Pastors being held here in beautiful northern Kentucky, just minutes from the Creation Museum. The conference dates are September 21-23, 2010. It features Dr. John Whitcomb (of The Genesis Flood fame) and eight other excellent apologetics speakers. The pastor's wife can attend at half price—special sessions are being held just for her, and she will join her husband for many of the faith-building talks.
They can also tour the museum (in fact, a block of time has been set aside for that visit). There are many other attractions in the area (e.g., downtown Cincinnati—with its famous zoo, museums, etc.—is only about six miles from the conference site). The Newport Aquarium (in northern Kentucky) is also close by.
Once your pastor has registered, he can simply call us and give his registration number and your contact information, and we will send you our free copy of my State of the Nation 2 DVD.
How about you sending this blog item to your pastor?  Thank you.
The conference website is AnswersForPastors.org.
Devotion
I have not hid

(Psalm 40:10) I have not hid thy righteousness within my heart; I have declared your faithfulness and your salvation: I have not concealed your loving kindness and your truth from the great congregation.

To be a "soul winner" is to not hide, but be always ready at any time, at any place, and at any cost to step forward in any group and proclaim the Lord Jesus Christ.
Thanks for stopping by and thanks for praying,
Ken