Last month we welcomed visitors to the Creation Museum from England: a family from London, and a creationist leader from Leicester. The Dr. Paul Mead family (his wife originally is from Hillsboro, Oregon) toured with their children. Dr. Mead works with the ministry of OM inEngland. He was pleased to learn that a few of our staff artists were engaged in some artistic projects for one of OM's missionary ships (The Logos).
He wrote to us the next day:
Thank you for going out of your way to make us feel welcome yesterday.  We thoroughly enjoyed the museum over the two days, and only wish we could visit more often.  It's a blessing to see a Christian ministry presenting itself in such a non-amateurish way.  We would love to see AiG making significant progress in the UK.
I work with OM as a Bible Teacher and Trainer, but most of my ministry is outside of OM--Bible schools, special events, churches. The main emphasis in my teaching ministry would be homiletics (my area of specialisation) and equipping people to handle God's Word accurately and share it with others.
Our family website is www.pouredout.org (and we send out monthly update emails to those who have requested to receive them).

Again, every blessing with your strategic work at the Creation Museum. We hope our paths might be able to cross again in the future.
Warmly,

Dr. Peter Mead
In this photo, you can see the family, along with Paul Taylor of Leicester, England (far left)—Paul oversees our sister office of Answers in Genesis in the UK. Paul and the Mead family happened to bump into each other inside our museum and compared notes. They will remain in touch.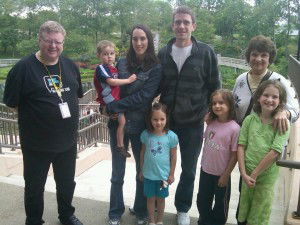 Thanks for stopping by and thanks for praying
Ken
*For non-U.S. blog readers, this headline plays off the phrase attributed to Paul Revere during the American Revolution.