Our wonderful 11-day tour of Israel this October has already become quite popular: 79 people (more than on last year's tour) have already signed up, and we're getting close to filling our second bus. If you have been thinking about going to this incredible country, where your Bible truly comes alive, you should act soon before we may have to close down the reservations.
What's different about our tour of Israel, October 15–25, is that—in addition to visiting the regular sites that most travelers see in Israel (including Masada, the Dead Sea, the Sea of Galilee, and of course, Jerusalem)—time will be set aside to discuss the geology of Israel and at an easy-to-understand layman's level. We will show how Israel (especially its great features in the southern desert) contains geologic features that were formed as a result of Noah's Flood 4,300 years ago!
PhD geologist Andrew Snelling (a superb communicator) will be one of the tour leaders and will help the Bible come alive for you while in Israel. The other leader is Dr. David Crandall, who will be hosting his 17th tour of Israel; he will bring several devotionals, especially at several sites that are mentioned in the Bible. Last year's participants raved about the tour—the excellent hotels, great food, and of course, the Bible instruction. I've been to Israel as well, and the trip really helped me see the Bible "come alive." It's a country that is very friendly to tourists.
I strongly encourage you to go to this weblink and join AiG for this unique tour in October.
While there, watch the short video promo I recorded—with my reflections on travel to Israel.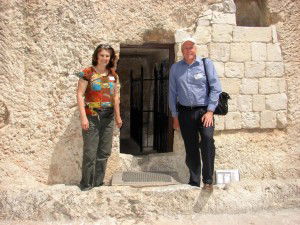 Attention Pastors!
Another special AiG event is also seeing good pre-registration numbers. We are happy to report that over 200 have already registered for our "Answers for Pastors" conference September 21-23 here in northern Kentucky (and close to Cincinnati). That figure includes the wives who will be attending with their husbands—special sessions will be held for them, and they will join their husbands for many of the sessions.
Pastors can go to www.AnswersForPastors.org to register; Creation Museum tickets are included in the cost—the museum is only 15 minutes away from the conference site.
Family Conference
By the way, for our family conference in July near the Great Smoky Mountains of Tennessee, we have almost 2,300 people pre-registered for "Defending the Faith" representing several hundred families. Many AiG speakers and guest speakers will be on hand to help equip you and your family to defend your faith, and you will also take in some of the special attractions in and around Gatlinburg/Sevierville. There is still some room for this exciting family event: register today at www.DefendingTheFaith2010.org.
Radio Nationwide
Tomorrow (Thursday), I will be guest hosting for Todd Friel's national radio program, "Wretched Radio," from 3-5pm (Eastern time). I will be interviewing six of our AiG staff members.
The program is carried on about 200 stations, including SIRIUS satellite radio. You can listen at this following website: see the orange tab "Listen Live" on this page.
Thanks for stopping by and thanks for praying,
Ken