In our Tuesday staff meeting, Dan Zordel (VP of Branding and Product Development) interviewed my brother Steve—in front of the staff—on his new book, In God We Trust.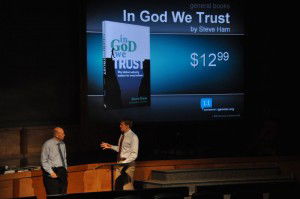 Dan and Steve discussed the three different sections of the book and why they present a unique look at biblical authority. While so many books on biblical authority center on defending the truth and inspiration of Scripture, In God We Trust goes even further: it shows how we see God's authority in His very person—and how biblical authority can be applied to our Christian walk in every area.
You can listen to the interview about In God we Trust below, or order the book here.
Dan also gave a great overview of all the other new (or updated) resources that we have, including The New Answers Book 3 that was just-released.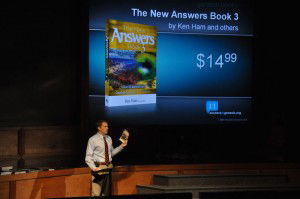 This latest addition to the Answers Book series tackles fascinating topics—in an easy-to-understand way—like global warming and climate change, human and chimp DNA, and the importance of the eruption of Mount St. Helens (which occurred thirty years ago this month). It also provides answers to several more questions. Order this latest resource in our online store.
Devotion
Certainly I will be with you

(Exodus 3:11–12) And Moses said unto God, Who am I, that I should go unto Pharaoh, and that I should bring forth the children of Israel out of Egypt? And he said, Certainly I will be with you; and this shall be a token unto you, that I have sent you: When you have brought forth the people out of Egypt, you shall serve God upon this mountain.

With only the I of ourselves, we are either proud for what we have or depressed for what we lack; recovery comes with the presence of the I Am—the Lord Jesus Christ.
Thanks for stopping by and thanks for
praying
,
Ken