Environmentalists around the world today are celebrating the 40th anniversary of Earth Day (April 22), where people of all cultures and religious beliefs join the cause of caring for the earth.
Now while Christians agree they are called to be good stewards of the earth's resources, they also caution the activists not to put the creation above the Creator.  We were pleased that we were able to get this message across in the nationwide newspaper USA Today, which stated yesterday (page A3):
Critics of Earth Day include Jason Lisle and Ken Ham of Answers in Genesis, a ministry of creationists. They say some events are a doorway to paganism and New Age mysticism.  "People are taking it to an unbiblical extreme," says Lisle, a research scientist. "They're worshiping the creation, not the creator," he says, and using global warming as a "scare tactic" to get people to support climate-change legislation.
You may
read the entire article
on the
USA Today
website. Here is a scan of the article in
USA Today
: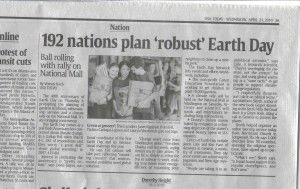 Many Earth Day celebrations also have evolutionary foundations, and are a doorway to paganism and New Age mysticism.  We warn participants not to be taken in by this worship of "Mother Earth."
Here are some points for us to consider:
Most environmentalists celebrate Earth Day for selfish reasons.
The true reason to participate in conserving our natural resources and protecting our environment is out of love for the Creator and His direct command to care for the planet (Genesis 1:28).
While there is evidence for global warming and climate change at a minute level, this is a natural occurrence and will not lead to doomsday scenarios as some scientists and politicians have claimed.
This should not be taken as an excuse to abuse the world, but rather the real justification to care for it—without resorting to scare tactics and exaggerations of the data.
Today's lead article
on our website deals with the topic of Earth Day—I encourage you to read it.
Seven Sessions in Seattle on Friday and Saturday
This Friday and Saturday, I will be speaking at a Home Educators Conference in Redmond (Seattle area)
,
Washington, giving seven presentations. You can obtain the details from
our AiG calendar
.
Devotion
Our devotion today is very apt for Earth Day:
If any man thirst let him come unto me, and drink

(John 7:37-39)  In the last day, that great day of the feast, Jesus stood and cried, saying, If any man thirst, let him come unto me, and drink. He that believes on me, as the scripture has said, out of his belly shall flow rivers of living water. (But this spoke he of the Spirit, which they that believe on him should receive...)

As "soul winners" we look for those who are keenly aware of the great big hole in their heart & deep thirst and we point them to the true satisfier, the Lord Jesus (not so called "Mother Earth").
Thanks for stopping by and thanks for
praying
,
Ken