And if Christ be not raised, your faith is vain; ye are yet in your sins. (1 Corinthians 15:17)
On this Easter Sunday, we specially remember (as we should every day) that the Son of God was crucified on a cross (His earthly body died because death was the penalty for sin—and he became sin for us to pay the penalty for our sin), and was bodily raised from the dead, He conquered death!
To conquer death means that He has ultimate (infinite) power. It was His resurrection that manifested Him to be truly God. If Jesus lies under the power of the grave, we therefore must remain under the power and guilt of sin, and be liable to everlasting punishment for it. If Christ is not raised, we are unpardoned sinners. But Christ did rise from the dead! How we should praise Him. How we should fall on our knees before Him. And, as Romans 10:9 states, "that if you confess with your mouth the Lord Jesus and believe in your heart that God has raised Him from the dead, you will be saved."
We also read in 1 Corinthians 15:3-4 "that Christ died for our sins according to the Scriptures, and that He was buried, and that He rose again the third day according to the Scriptures."
The apostle Paul in 1 Corinthians 15:45 calls Jesus the "last Adam." Because the first Adam brought sin and death into the world, the Son of God became a man (our relative) called "the last Adam," the God-man, to bring life through His death and resurrection.
During last Thursday's chapel service, AiG/museum staff had a special time of singing hymns to praise God for Christ's Resurrection—praising the Last Adam for what He has done for us. Below is a photo of that worship time (taken on a cell phone). Tom Hill of our staff led the singing, and my daughter Danielle played the keyboard.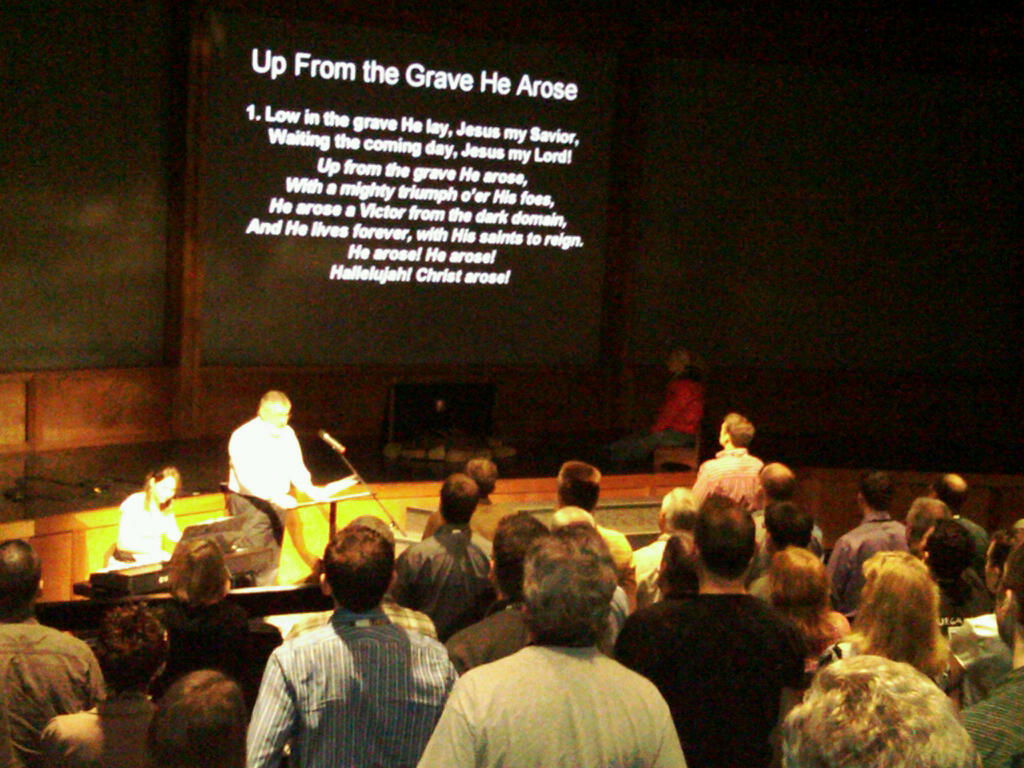 Tonight's the Night!
As I wrote yesterday, we have the opportunity to share our new TV spot—which promotes our online video Bible project, where as a part of our "IAmNotAshamed.org" campaign, all 32,000 verses of Scripture are being put on video and posted to the web—on the popular news program 60 Minutes tonight (7 p.m. Eastern/Pacific time; check your local listings for the time in your area). And of course, it is quite appropriate that on this Easter Sunday, a ministry that's upholding the authority of the Bible—including Christ's resurrection—is in the national spotlight like this.
By watching tonight, you will learn something about our "IAmNotAshamed.org" project, and its online video Bible (the first of its kind in the world). Over 8,000 people are needed to read and record 32,000 Bible verses, from Genesis to Revelation. They are doing it by using their computer's built-in web camera.
I am sorry, but I can't tell you when the TV ad will air during 60 Minutes. However, if you miss it, you can watch the spot on YouTube.
Thanks for stopping by and thanks for praying,
Ken