Here is an item about a Christian college I will be speaking at next May: Tennessee Temple University. TTU professor Dr. Andrew Fabich, a biologist, sent this to us about a special campus event being held Thursday:
Charles Darwin published On the Origin of Species on November 24, 1859. Atheists, agnostics, and skeptics are thus celebrating 150 years of its evolution teaching. In response to the 150th year of Darwin's publication, Tennessee Temple University will have a special Creation Chapel tomorrow (November 19th). For the Creation Chapel, TTU will not highlight Darwin's publication; instead, faculty, staff, and students will worship the Creator for His miraculous creation—and as the sovereign Lord of everything (Romans 1:20–21).

To honor our Creator, the Creation Chapel will include the video Six Days produced by Answers in Genesis. Furthermore, the song service will focus on God as Creator—in addition to fostering a continual atmosphere that upholds truth of the Bible starting with the first verse. What mercy the Lord has extended to us in that we can observe anything beautiful in light of the Curse from Adam's Fall!

Tennessee Temple University is a distinctively Christian liberal arts institution of higher education that prepares students for lives of leadership and service. Each year, a biology class is taken to the Creation Museum.
Photo of the Week
Here are some children at the Creation Museum enjoying the amazing balloon creations that some of our young volunteers make for them. The young lady in the background, Chelsea Driver, made these balloon headpieces.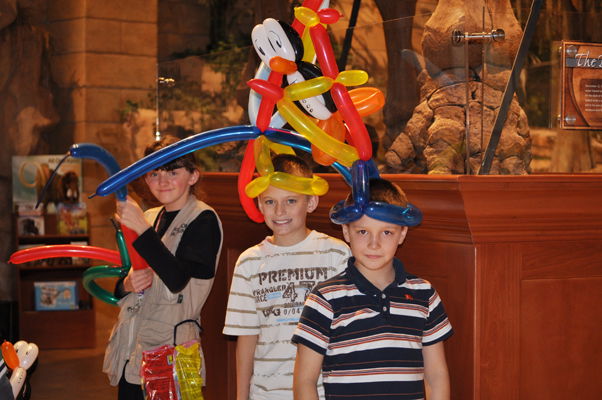 Devotion
Unto His habitation shall ye seek and thou shalt come
(Deuteronomy 12:5) But unto the place which the

Lord

your God shall choose out of all your tribes to put his name there, even unto his habitation shall you seek, and there you shall come:
Love to the Lord Jesus Christ is when in the morning we say no to the many pressing urgencies that call out me first & instead seek first our private time with Him.
Thanks for stopping by and thanks for praying,
Ken