Some of you may have seen the Duggar family (17 children—now with another on the way) on television. To date they have been featured on five Discovery Health & TLC documentaries entitled "14 Children and Pregnant Again!" "16 Children and Moving In!" "Raising 16 Children!" "On The Road With 16 Children!" & "Duggar's Big Family Album."
Well the Duggars (with the TV crew following them) came to visit the Creation Museum this week. I've included four photographs: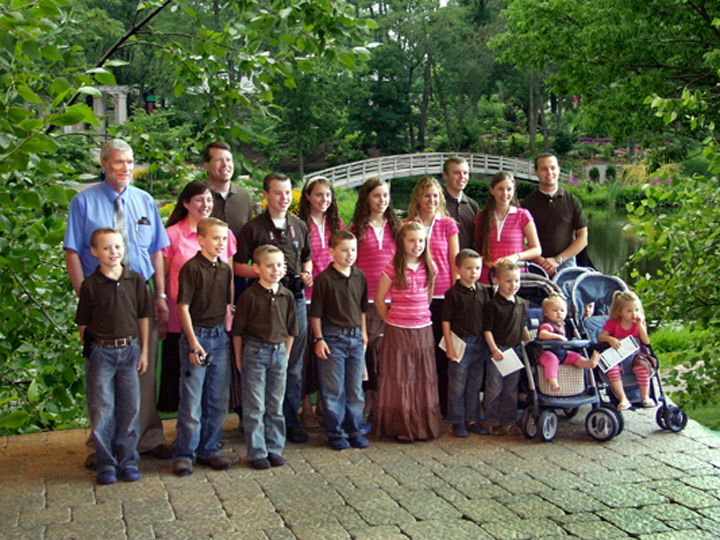 1. The Duggars and me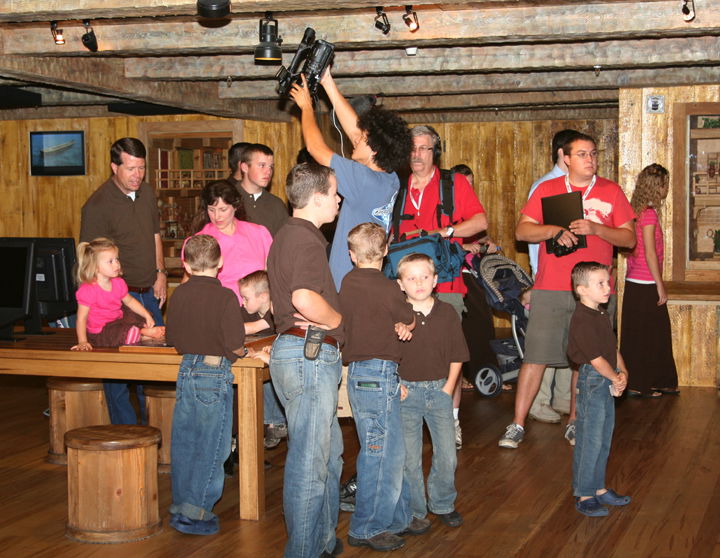 2. The Duggars and the TV crew in the Voyage Room (a Noah's Ark museum exhibit)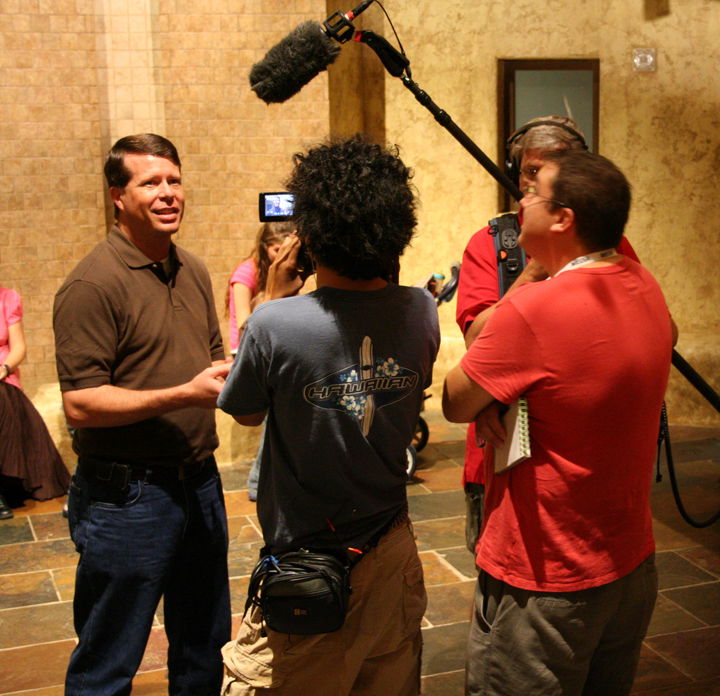 3. The TV crew interviewing Jim Duggar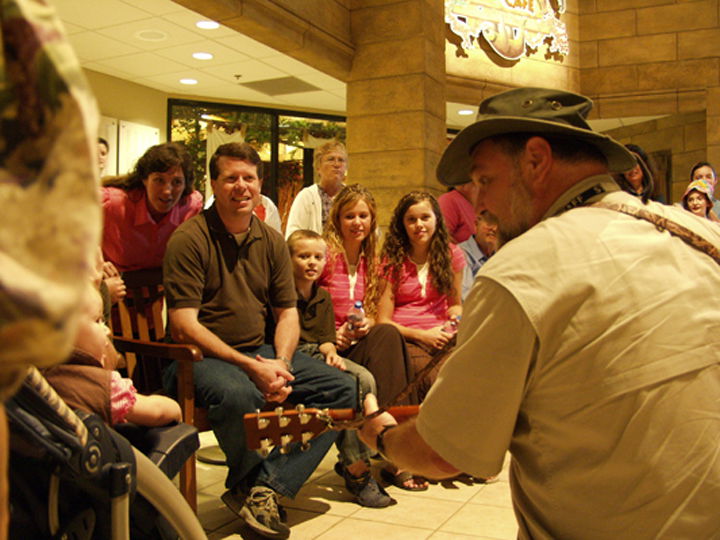 4. AiG's Buddy Davis entertaining the Duggar family
Look for the Duggars as they go through the Creation Museum on one of their future TV programs! Air dates have not been announced.
Jim Bob & Michelle Duggar married July 21, 1984. Through a series of circumstances explained on their website, they tell us that "They asked God to bless them with as many children as He saw fit in His timing. Right after that, Michelle got pregnant with twins! To date they have been blessed with 17 children, (10 boys and 7 girls) Joshua, Jana & John-David (twins), Jill, Jessa, Jinger, Joseph, Josiah, Joy-Anna, Jedidiah & Jeremiah (twins), Jason, James, Justin, Jackson, Johannah, Jennifer (and #18 due in January 2009---and they told us what the child will be, but we'll keep that to ourselves!). As a family project, the Duggars built a 7000 sq. ft. home debt free! Both Jim Bob and Michelle are licensed real estate agents. Jim Bob served in the Arkansas House of Representatives from 1999 to 2003 and was a candidate for the U.S. Senate in 2002."
You can find out more about the Duggar family from their website: www.duggarfamily.com. When it was announced in a staff meeting that the Duggars were coming to the museum, so many nodded their heads or smiled---indicating that they had watched them on TV. The family has become very well-known in America.
INDIA REPORT
On Thursday morning, Dr. Dave Crandall (Director AiG WorldWide) gave the AiG staff a stimulating report on the recent AiG conference and videotaping sessions held in India. I've included a photograph of Dr. Crandall as he talked to the staff last Thursday, and one of me as I interviewed AiG AV/Media Director Ben regarding his interesting experiences while in India.
BACK TO COLLEGE
On Friday night, I took some of our (grown-up) children out for dinner as a special treat for our daughter Kristel who returns to her studies at college as a Junior this year. I have included a photograph of myself, Kristel and Danielle taken at one of our favorite restaurants.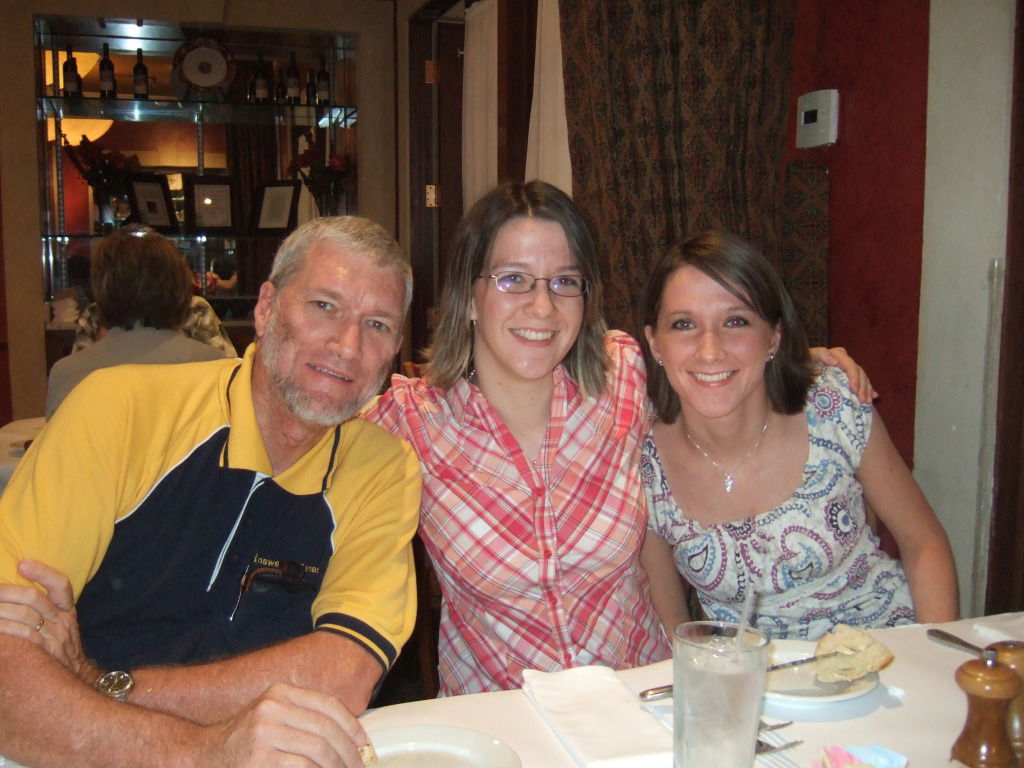 DEVOTION
Let nothing draw us away

(1Sam. 7:10) And as Samuel was offering up the burnt offering, the Philistines drew near to battle against Israel: but the LORD thundered with a great thunder on that day upon the Philistines, and discomfited them; and they were smitten before Israel.

We are the most helped by God when we set ourselves to let no urgency or must do first draw us away from our daily quiet time worship of the Lord Jesus Christ.
Thanks for stopping by and thanks for
praying
Ken