I thought you would enjoy this photograph sent to me from Australia. It was taken at Australia Zoo—the zoo of the famous Crocodile Hunter, the late Steve Irwin. (See the sculpture of the Irwin family.)
I hope no evolutionist tries to sue the Kangaroo! Actually, we've had quite a few visitors from Australia at the Creation Museum.
Radio Friends at the Museum
A group from the Dayton, Ohio, area was here on Tuesday—co-hosted by our friends at Christian radio station WFCJ. That station was here 12 months ago to do radio programs originating from our newly opened museum. Bill Nance, the general manager, was here again this week. We have appreciated his support over the years in getting out the word about the museum in his listening area (about one hour north of the museum).
Bill wrote us a note the next day:
We had a full busload from Cross America Tours—58 people. Most had never been to the museum before, and all found it most enjoyable! We spent much of the day there, from 9:30 a.m. until 4:00 p.m. Many visited the walking gardens and petting zoo. WFCJ promoted the trip on the air, and Melody Morris and I hosted it.
In the photo, Bill is in the second row (towards the middle, in the blue shirt) and Melody is directly in front of him wearing a striped white blouse.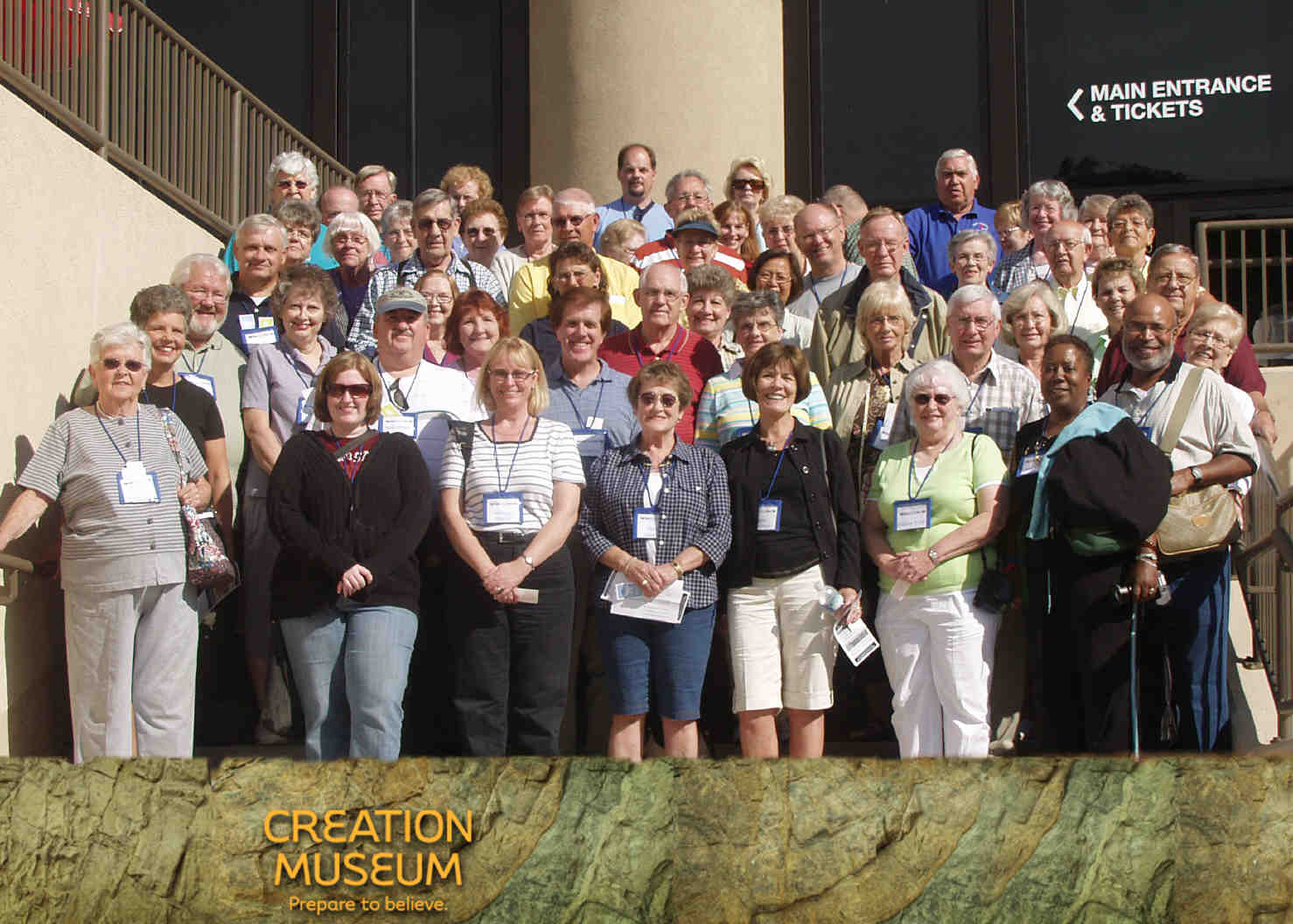 Denying Course Credit to Christian Schools That Teach Creation
Fox News reports:
A federal judge has ruled the University of California can deny course credit to Christian high school graduates who have been taught with textbooks that reject evolution and declare the Bible infallible, the San Francisco Chronicle reported.
You can read the entire story at this link:
http://www.foxnews.com/story/0,2933,402761,00.html
We have posted a preliminary response about this court decision to our website, and will elaborate on it in our News to Note feature this weekend.
Devotion
Tremendous capacity vs tremendous void

(1 Samuel 2:1–2)  And Hannah prayed, and said, My heart rejoiceth in the LORD, mine horn is exalted in the LORD: my mouth is enlarged over mine enemies; because I rejoice in thy salvation. There is none holy as the LORD: for there is none beside thee: neither is there any rock like our God.

God made the eye for light, the ear for sound, the mind for truth, and God made man with a tremendous capacity for God and a tremendous void without God.
Thanks for stopping by and thanks for
praying
,
Ken