Yesterday in this blog we told you of an interesting development regarding someone who had complained about how our local tourist bureau (the Northern Kentucky Convention and Visitors Bureau) had listed the Creation Museum on its website. Our local newspaper The Kentucky Enquirer has run two prominent articles about this complaint, including one that appeared over the weekend.
In more positive news, the same paper reported on a different museum item this weekend, and it too concerned the local visitors bureau—though it wasn't anything as controversial as a few words on the bureau's website. For an uplifting account of two museum staff members (a married couple) who went "above and beyond" to help some out-of-town museum guests (we commented on this a couple of days ago in this blog), read this Sunday article from the Enquirer:
http://news.enquirer.com/apps/pbcs.dll/article?AID=/20070902/NEWS0103/709020397/-1/all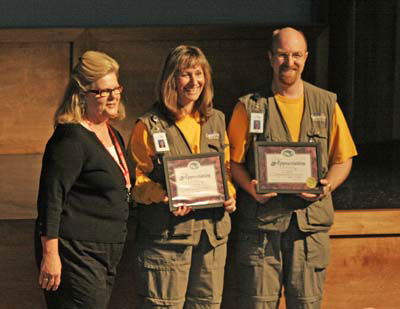 The Campbells receive their "Bureau hero award" from Barbara Dozier (left), VP of the Northern Kentucky Convention and Visitors Bureau.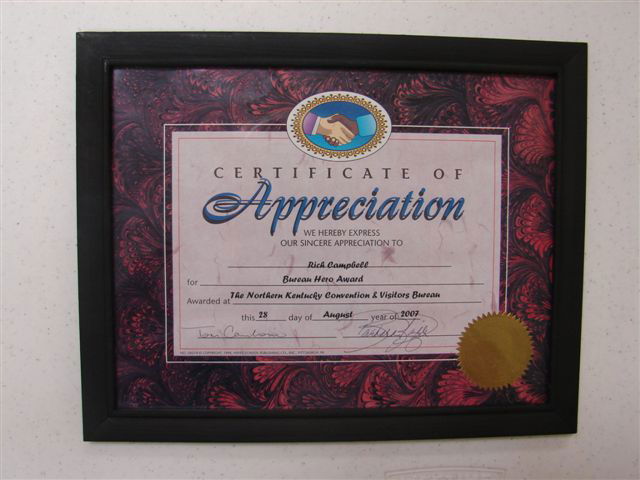 We had one particularly excited visitor to the museum on Monday. He sent us a wonderful email:
"World class. The theme was brilliant, the thread running through the entire museum was beautiful and obvious, the grounds were well thought out.

"In all my travels around the world and seeing museums like the Smithsonian, the Australia War Memorial Museum in Canberra, and the Duxford Air Show in England, I've not seen anything to parallel the Creation Museum in beauty and class. Truly a topnotch effort.

"But better than that, I've gained a much higher reverence, appreciation, and humbleness for Almighty God, something for which I've been praying for some time. I loved the constant theme of how high and holy God is.

"Visiting the Creation Museum was truly a life-changing experience. I have eagerly told people in my church about the museum. I hope to come back and bring my son."

—D. F.
Why would we post a photo of a Hawaiian license plate on our website? Well, we have been waiting for the 50th state to be represented at the museum, and this milestone was achieved over the weekend. (By the way, on opening day in late May, we counted license plates from 35 states; indeed, the Creation Museum has become more than just a Midwest attraction.)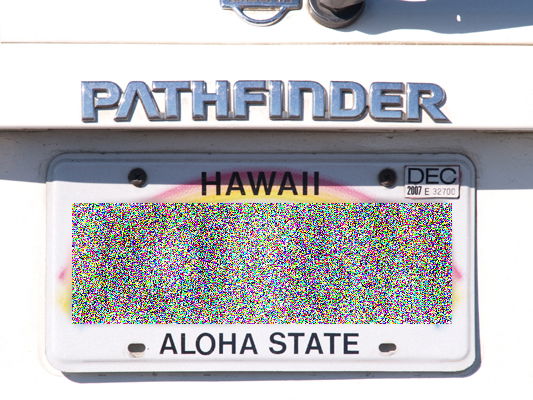 On Wednesday night I will be in Scotland's capital city, Edinburgh. Last time I was there I spoke in Charlotte Chapel and stood in the very pulpit Charles Templeton stood in as an evangelist—he was the man, however, who went to Princeton and, because of being taught millions of years by theologians, he concluded this: if there was a God, He was an ogre. Templeton became an atheist. He wrote a book called Farewell to God, now used by atheist groups to attack Christians. We have an exhibit on him in the Creation Museum to show how destructive it is when theologians compromise the Bible with millions of years.
After Edinburgh it is off to Glasgow for the final event of this Scotland tour.
Thanks for reading, and thanks for praying.
Ken