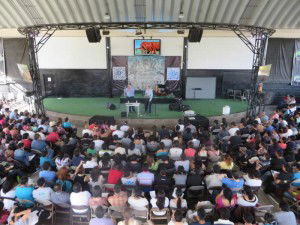 The one thing that is constantly reinforced in my mind when traveling on ministry with Answers in Genesis is that people have questions and are looking for someone they can trust to give them answers. In Cuernavaca, Mexico, I came across a young man who is a great example of this very situation.
I had just finished giving a talk about dinosaurs when Octavio came to me (with an interpreter) to talk. His first statement was one that many of our speakers at Answers in Genesis hear on a regular basis. It went something like this: "This was the first time that I have been able to see that the Bible can be logically defended and that it is actually trustworthy." After hearing Answers in Genesis talks, many people over the years have had those light bulb moments of seeing the credibility of the history in Genesis and the reliability of the entire Bible. Octavio was a young man with doubts about the Bible. He did not previously have any confidence in the reality of biblical history nor the credibility of Jesus and His amazing work of redemption.
Octavio then told me that because he could see that I could defend my position and show the credibility of biblical truth with clarity and logic, he wanted to ask me some other questions. This is a response we are always eager to hear. Octavio's question was about a personal problem he was having that related to how he understood the gospel. It had nothing to do with creation apologetics but at the same time it had everything to do with creation apologetics. It was because of the ministry of creation apologetics that Octavio developed a trust in me to approach me with a very different and perplexing question that he had on his mind. We then sat down with his question, commenced in Genesis, and then followed God's redemptive theme through Scripture. After our hour-long conversation, Octavio professed faith in Jesus Christ, repentance from sin, and a desire to live to the glory of his new King.
Building trust is an important element in gospel ministry. For Octavio and many others, trust is established on the basis of displaying reliable truth. This is not something that he found in Steve Ham, but something that he found as he was pointed to the truth in Christ and His Word.
As I walked away from the privilege of watching God work a miracle of salvation in Octavio, I once again reminded myself of the importance of helping people understand that the Bible is truly defendable and reliable. Octavio was waiting to find somebody he could bring his question to, and it was a question that was well and truly answered within the pages of Scripture and fully solved in the gospel of Christ. He found that through an Answers in Genesis conference. I am not saying that many other people could not have answered his question, but the barrier to his even approaching me was a lack of confidence in the Bible itself. How many more Octavios could be helped by seeing that we not only believe the Bible but can explain and defend the accuracy of its history. While not everyone has the same need as Octavio, he is not alone.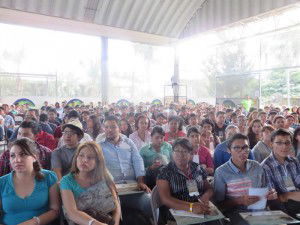 In Cuernavaca, Mexico, around 1,000 people came to the Rawlings Foundation camp to participate in the Creation apologetics conference with Answers in Genesis. As the people came in, we were told that many had come from schools and colleges and that many of the participants would be non-Christians. We have heard many testimonies of conference attendees since they came to salvation in Jesus. If you want to see more details about this conference, read the
blog post
by Joe Owen, our manager of Hispanic/Latin Ministries. Please pray for the AiG ministry to Latin America. We are finding open doors, hungry people, and hearts ready to hear the truth of Scripture and the gospel message. Please also pray for Octavio and many like him who are looking for answers on the basis of a strong foundation of defendable truth.
Sincerely,
Steve