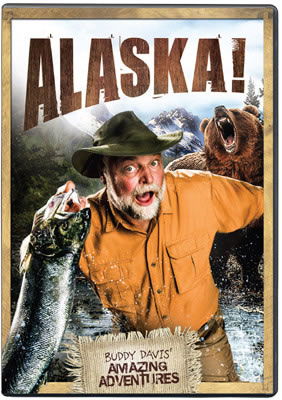 Our new DVD Buddy Davis' Amazing Adventures: Alaska! has just been released. In this show you'll see some of the beautiful scenery and unique animals found there as well as learn about some of the natural resources that the state is famous for. I also wrote two new songs just for this DVD. "Mush on Team of Husky" is a fun song about a man prospecting for gold and "Living in Alaska's Great Outdoors" showcases the natural diversity that can be found in our 49th state.
We were excited when our Buddy Davis' Amazing Adventures series was picked up by an international network. Our shows will be seen on over 600 television stations across Africa, Asia, and Europe. The best part is that the gospel message is presented in each one of the shows and we're praying that many lives will be touched.
At the beginning of 2015 we released a new children's book, Buddy Davis' Cool Critters of the Ice Age. I wrote this with my wife Kay and our daughter Lydia. We enjoyed researching some of the remarkable animals that were alive during the Ice Age, which happened after the Flood of Noah's day. For instance, did you know that there were beavers as large as a bear and an armadillo-type creature as large as a small car? I also had fun doing cartoon illustrations as well as some realistic drawings of these critters. If you've ever had questions about the Ice Age this book can provide a lot of the answers. We are excited that Cool Critters of the Ice Age will be coming out in Spanish soon.
I'm currently working on developing a new workshop to do at the Creation Museum in 2016. In this workshop we'll be talking about Noah's Ark and the dinosaurs that would have been on board. I can't wait to share all the interesting information with the Museum's guests.
We pray that you have a wonderful New Year and God richly blesses you.