Editor's note: This article was adapted from a news release that was recently distributed to the media.
Two years ago today, the Ark Encounter opened its doors and quickly became a major international tourist destination. Answers in Genesis (AiG), operators of the Ark Encounter, continues to engage in major expansions this year and through 2019, with other significant additions planned beyond 2019. Meanwhile, new hotels and other tourism-related businesses have launched or are under construction throughout Northern Kentucky, and their owners cite excellent attendance at the life-size Noah's ark as a main reason.
As this world-class Christian themed attraction has concluded its second year, tourism officials have been testifying to the ark's remarkable economic impact on the region. In addition, the state's treasury has been benefiting, and Kentucky is also seeing the creation of thousands of ark-related jobs. As the Noah's ark replica sails into its third year of operation, additions and projects are underway at the theme park that will have fans returning again and again as the Ark Encounter theme park expands.
Ken Ham, the CEO of Answers in Genesis, Ark Encounter, and the ark's sister attraction the Creation Museum in Petersburg, Kentucky (which has doubled in attendance since the ark opened), declares, "We are so blessed to have seen over one million guests visit the Ark Encounter in our second year. Almost all attractions see a drop in attendance after the initial excitement of the opening year wears off, but we have experienced another remarkable year. Numbers are even higher than our excellent first year, partly because so many motor coach tours, a 20% increase, are arriving daily."
Ham continued: "On a recent Saturday, about 7,000 guests experienced the eye-popping, 510-foot-long ark. Over 90% of our guests do not live in Kentucky or neighboring Ohio and Indiana, so most of our visitors are filling local hotels and restaurants. And the Creation Museum has had two consecutive years of record attendance, eclipsing year one in 2007."
The Ark Encounter continues to be transformed through many additions and upgrades. Previous ark visitors will barely recognize the grounds around the ark and near the lake in front of the massive ship. Updates for 2018 and 2019 include: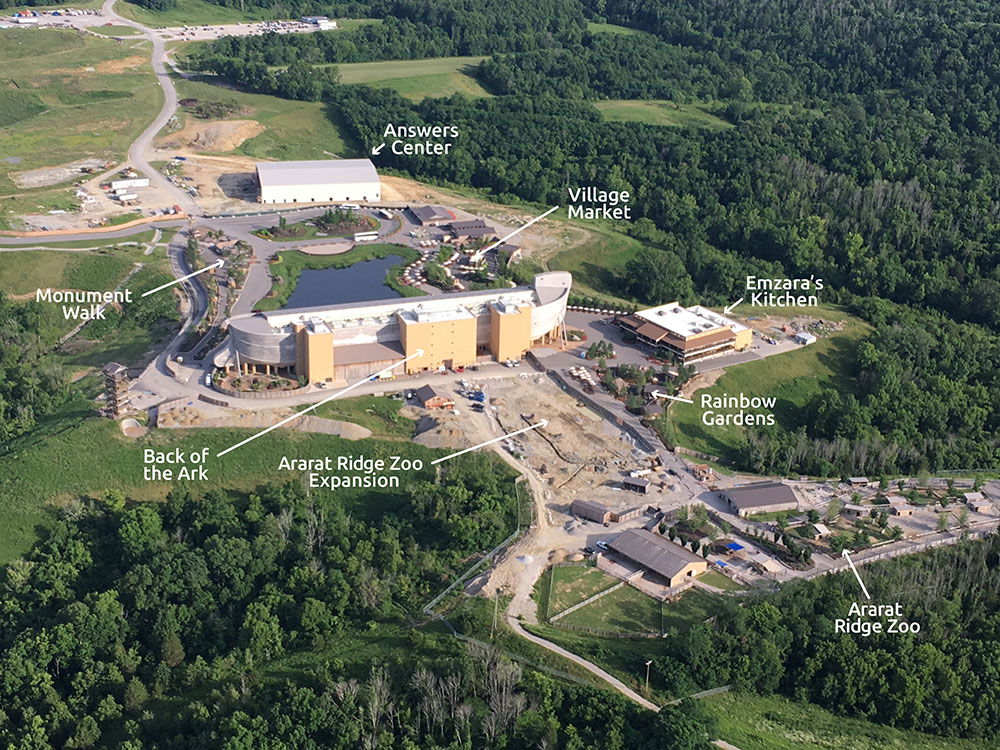 A large 2,500-seat auditorium inside a multi-purpose facility called the Answers Center will open later this year near the ark. The center will include a 36,000-square-foot basement with classrooms and breakout areas.
The impressive Ararat Ridge Zoo behind the ark is doubling in size, to be completed by the summer of 2019. The collection includes Tibetan yaks, zebras, alpacas, emus, kangaroos, camels, and many other animals.
A large new children's play area is being planned for a spring 2019 opening.
Village Market on the west side of the lake features new food venues and one-of-a-kind retail items for sale, including fair trade products. Featured in this village is Oscar's Store, with unique hand-painted items.

The new Monument Walk entrance to the ark, now open on the east side of the lake, is an instructive area where guests are introduced to major biblical events of Genesis prior to Noah's flood. Exotic live birds are also exhibited.
The beautiful Rainbow Gardens are a must-see for guests as they walk to the Ararat Ridge Zoo. In one spot, flowers help recreate the rainbow of Genesis 9 for visitors to view as they sit in covered eating areas.
The huge Emzara's restaurant, with 1,500 seats, now features an expanded buffet with many new menu items, drawing raves from guests.
Ken Ham pointed out that besides all the great things happening at the Ark Encounter and Creation Museum, many AiG staff (1,100 employees this time of year) are active in the community. "Our department of public safety has partnered with local police to share best practices for K-9 dog training and crowd control, safety, and first aid. In addition, several staff have taken an active role in volunteering at food banks, homeless shelters, at the Kentucky Speedway on race days, and so on. Also, the massive fair trade market continues to help many underprivileged artisans around the world."
As the Ark Encounter enters its third year in Williamstown and expands, 2018–2019 is already shaping up to be another excellent year of attendance and economic impact.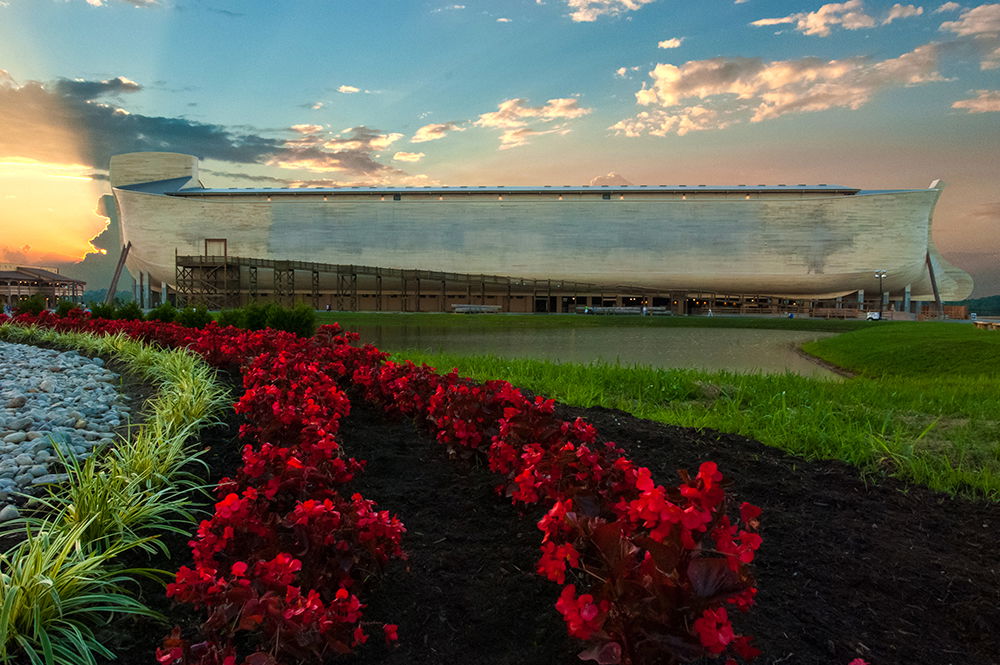 Answers in Genesis is an apologetics (i.e., Bible-defending) ministry based in Northern Kentucky, near Cincinnati. In 2016, AiG opened the Ark Encounter, with a massive Noah's ark as its centerpiece, drawing up to 8,000 guests a day. The Creation Museum (west of the Cincinnati Airport) has welcomed 3.6 million visitors and has also become a major family attraction in the Midwest. For more information, visit www.answersingenesis.org.