What do owls, alligators, and apes have in common? To Dan "the Animal Man" Breeding, they are tools to reach people for Jesus Christ.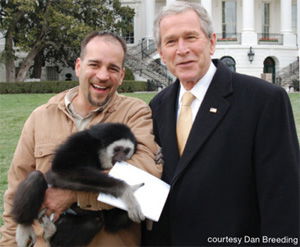 Dan Breeding, one of the foremost exotic animal trainers in the world, combines his love of exotic animals with his passion for sharing the gospel in a ministry called Creatures of Creation. Armed with an arsenal of wit, enthusiasm, and—of course—some of God's most amazing creatures, Dan uses his presentations to demonstrate firsthand the beauty and design found in animals, and to present the Creator's plan of salvation.
As a Christian and young-earth creationist, Dan is a rarity in the world of exotic animal handling, but he believes that God placed him in his position for a purpose. Since earning his degree in wildlife education and animal training, Dan has had many years of experience in exotic animal care and exhibition.
He has appeared on such national television programs as Good Morning America, Live with Regis and Kelly, Inside Edition, Maury Povich, Jay Leno, and David Letterman. Through his nonprofit organization Wild Animal Encounters, Dan reaches a wide variety of secular audiences, using "encounters" with these intriguing animals to show people their amazing design features.
But Dan doesn't stop there. He also established a separate nonprofit ministry, Creatures of Creation, to teach audiences at churches and elsewhere about God's creation from a biblical perspective. As Leeza, a young gibbon, hangs playfully from his arm, Dan will explain her many amazing characteristics while demonstrating how she is markedly different from human beings in a number of ways.
The magnificent design features of Eugene, his Eurasian eagle owl—from enormous eyes to silent wings—clearly demonstrate the intelligence of the owl's designer. Prickles, the African porcupine, is a wonderful object lesson of the quiet, gentle spirit that God desires in man, as well.
People come away from Dan's presentations with a renewed awe for the Creator God and a clearer understanding of man's uniqueness. Every year Dan visits churches, camps, and Christian groups with his amazing animals and unique presentation of the gospel.