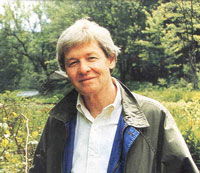 The AiG staff is expressing its deepest sympathy to the family of gifted cartoonist and AiG friend Johnny Hart, who passed away Saturday in New York state at the age of 76: to Johnny's wife, Bobby, and daughter Perri, who have also been kind to AiG over the years, and also to another daughter, Patti (whom I have not yet gotten to know).
Hart, whose B.C. comic strip is carried worldwide by more than 1,300 newspapers, often used his strips to share his Christian faith, especially at Easter and Christmas. Knowing of his wordsmithing and use of puns, we think he would appreciate the headline we chose as we paid tribute to him. For a previous AiG web article on Hart which includes a sample tongue-in-cheek comic strip that still managed to express his belief in the authority of the book of Genesis, go to: "B.C.—Befriending Creation!". This web article shares how Hart donated some of his signed strips over the years to benefit the Creation Museum.
Hart also collaborated with Brant Parker on the popular Wizard of Id comic strip. Growing up, I turned to the comics section of my local newspaper every day to read this witty strip by Hart and Parker.
AiG's staff cartoonist Dan Lietha told me over the weekend: "I was very saddened by the loss of Johnny Hart, yet I found it poignant and somehow fitting that he passed away while at his drawing board."
Lietha added: "There are far too few Christian—much less creationist—cartoonists in this world, and we just lost a giant. I had dreamed of meeting him in person some day to tell him how important he has been to my life and my work. I still look forward to that meeting; it just won't be on this side of heaven as I had planned."
As the cartoonist of B.C. (meaning "Before Christ"), he will be "Before Christ" in heaven—and will be "With Christ."