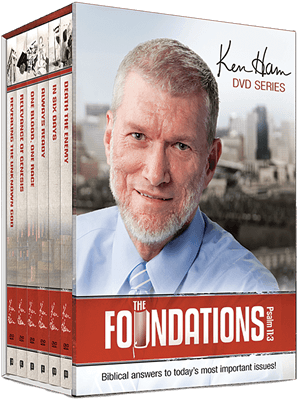 The last time Answers in Genesis produced a series of videos featuring Ken Ham, they were recorded on VHS tapes and the Creation Museum was still a dream. In fact, George W. Bush had just started his first term as the U.S. president.
A lot has changed in ten years!
The newest Ken Ham series is available on DVD or as an MP3 (digital) download. The dream of the Creation Museum has been realized—with over 1.3 million guests so far—while a very different president sits in Washington's oval office.
These changes are easy to notice, but more significant are the invisible spiritual shifts that have battered the world and God's church. So about eighteen months ago, Mr. Ham was asked to prepare a new and updated set of presentations.
The result is a monumental, new six-hour series, in twelve parts:
Relevance of Genesis, Part 1 & 2
Always Ready Apologia, Part 1 & 2
Death—the Enemy, Part 1 & 2
In Six Days, Part 1 & 2
One Blood, One Race, Part 1 & 2
Revealing the Unknown God, Part 1 & 2
But these are not just videotaped lectures. The new series combines a modern set and documentary feel, with Ken Ham's pointed but humorous style.
Standing in front of an impressive stage—showing the church, the Christian home, the public school, and the workplace—the salt-and-pepper-haired Australian addresses the troubles confronting our culture.
Just one excerpt should suffice to show the new series' flavor. In "Revealing the Unknown God," Ken explains the unique challenges of evangelizing a post-Christian culture. He explains, "One of the mantras of President Obama is 'Whatever we once were, we are no longer. We are no longer just a Christian nation. We are also a Jewish nation, a Muslim nation, a Buddhist nation, a Hindu nation, a nation of nonbelievers' [from The Audacity of Hope].
"The president is saying we no longer build our thinking on the Bible. We have a different starting point. But what he's really saying is that it's a change from one God to many gods.
"In fact, in Newsweek (April 2009) in the cover article 'The Decline and Fall of Christian America,' they made this statement, 'The present, in this sense, is less about the death of God and more about the birth of many gods.'
"Do you know what they are really saying? Whatever we once were, we are no longer. It was 'one nation under God,' but now it's 'many gods.' We're no longer and Acts 2 culture; we're an Acts 17 culture."
This is Ken Ham at his best—a folksy Australian, set in a modern production, directly addressing our world's deepest needs from a biblical perspective.
The AiG team is already calling this DVD set Ken Ham's "signature edition." His life's work and passion—promoting the Creator, the authority of His Word, and the gospel—is obvious throughout