As students start cracking the books again, why not consider sending a College Survival Kit? That's what Aimee Fuller of Edwardsville, Illinois, has done for years. She has helped college-bound family, friends, church members, neighbors, and even her children's babysitters.
Using any container or gift bag, simply fill it with goodies and biblical resources designed to equip the students. Today's college students are bombarded daily with a host of difficult questions.
Many great resources are now available, at affordable prices, designed with students in mind. Simply pick the ones that are most suitable for the individual student.
Besides treating students with chocolate and gift certificates to places like Starbucks, Wal-Mart, Blockbuster, and their favorite pizza place, here are some ideas for faith-equipping resources to consider sending to a college student: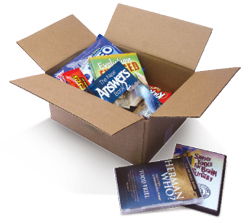 Authority of Scripture
Herman Who? (DVD) by Todd Friel (Living Waters) explains how to interpret the Bible correctly.
Nothing But the Truth (book) by Brian Edwards shows how we know the Bible is inspired.
The Truth War (book) by John MacArthur explores the root issues at stake in a post-modern world.
The Creationist Alternative
Evolution Exposed: Biology and Evolution Exposed: Earth Science (books) expose and refute the evolutionary claims in the most popular high school science textbooks; the exposés are applicabe to college textbooks, too.
Six Days or Millions of Years? (booklet) explains where the idea of millions of years of evolution came from.
Essential Apologetics
The New Answers Book and The New Answers Book 2 provide answers to the most-asked questions about science and the Bible.
Simple Tools for Brain Surgery and Artificial Authority (DVDs) by Bill Jack show how to turn a conversation to spiritual things.
Ask Them Why (book) by Jay Lucas teaches how to use good, sound questions to expose people's faulty reasoning.