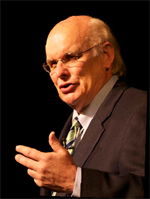 Dr. Ron Carlson
One of the world's leading Christian apologists, Dr. Ron Carlson, president of Christian Ministries International, has gone to be with the Lord. While he was widely recognized as an expert on world religions and cults, he also spoke passionately in favor of biblical creation during his decades of worldwide ministry.
Dr. Carlson noted that evolution is not a scientific method but an entire worldview— and thus a religion. He eloquently described naturalistic evolution as "packed full of faith propositions," including the origin of matter, the origin of life, and the origin of intelligence.1
Dr. Carlson is survived by his wife, Marge, and two sons, who plan to carry on his work.