Sarah and Elizabeth Garcia, twin daughters of Ignacio and Janis in central Ohio, have been brought up by their parents to serve others. In that spirit, they very willingly handmade 115 beautiful baby quilts earlier this year (and over a period of several weeks) to offer to AiG supporters in exchange for a donation to the Creation Museum.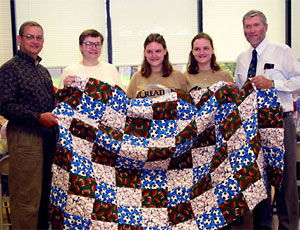 Several dozen of these quilts have been ordered through our website and are "blanketing" the country. They are being offered for a donation of $250, with the entire proceeds benefiting the museum. You see, the young ladies bought all the materials themselves so that the entire $250 would be tax-deductible for the AiG supporter who "redeems" each quilt!
Sarah and Elizabeth are so passionate about AiG's proclamation of the creation/gospel message, that they (along with their parents) also volunteer at many AiG events, including our just-concluded Pittsburgh, Pennsylvania, USA conference (attended by 3,100 children and adults at the city's new downtown convention center).
There are a few quilts left. Before they're all gone, you may want to consider these unique, handmade quilts—lovingly sewn by the Garcia twins—as possible special Christmas gifts. One of the early ones was ordered by a very young man for his unknown-but-future wife; he was touched by the twins' efforts and wanted to support the project.
Another was used as a witnessing tool to a nonbelieving couple in Romania, and many have been purchased for expectant parents by expectant grandparents.
We praise God for these two young people. In fact, maybe their sacrificial effort has spurred you to put on your "creative hat" and find your own ways to serve the Lord in proclaiming the creation/gospel message.