During their daily interaction with students, teachers have an opportunity to teach much more than their particular subject. They also teach important lessons about life. Sometimes the teaching can be quite creative.
Such was the case with Ric Wood, who taught at Calvary Christian School in Covington, Kentucky. He taught his students much more than a biblical view of art. He taught them about the Christian life by his love, dedication, and servant's heart—and ultimately he taught them about death, as he boldly battled throat cancer for almost a year before his body succumbed to the disease last December.
So, how did this popular teacher handle the distressing diagnosis that no one wants to hear? Understanding from Genesis why there is death and disease, he chose not to respond by asking "Why, God?" but "What next, God?" The answer came in unusual, yet unforgettable ways.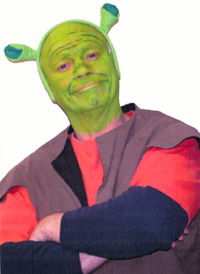 Not wanting his students to worry, or to concern them with his bald head after going through chemotherapy, Ric chose to dress up like different characters and visit each classroom. Perhaps the character forever etched into students' minds is Ric's version of the fun-loving cartoon ogre Shrek. Ric's whole head was painted green that day.
Ric Woods' approach with kids brings to mind the teaching of well-known pastor and author John Piper, who, when he was diagnosed with prostate cancer, saw it as an opportunity to share truths about the Creator and Redeemer. In a message targeted to adults, Piper pleaded, "Don't waste your cancer. You will waste your cancer if you think that 'beating' cancer means staying alive rather than cherishing Christ," he explains.
In this sin-cursed world, God has given us, like Ric, innumerable opportunities to live out Philippians 1:21: "To live is Christ, and to die is gain."