In fact, we look at our new headquarters building as something of a ten-year anniversary gift from the Lord!

Yesterday, AiG staff unpacked and began settling into their new AiG-US headquarters in Northern Kentucky, after working out of four leased buildings in Florence, Kentucky. Over the Labor Day (appropriately named!) weekend, AiG relocated from Florence to Petersburg, Kentucky, 15 miles away from their former/leased headquarters and only two exits west of the Cincinnati Airport.1
During the staff orientation meeting last week, AiG-US President Ken Ham kicked off the staff's first official meeting at the new campus by sharing a moving testimonial of how God led us to this significant point in the history of the ministry, which began in N. Kentucky in 1994. (Internationally, AiG goes back more than 25 years—co-founded by Ken Ham in Australia.)
Ken then shared a devotional, drawing parallels to the account of Nehemiah and the rebuilding of the walls of Jerusalem. Just as Nehemiah saw opposition (Neh. 4) and had to be vigilant and "watchful" (Neh. 4:9), AiG too has received much opposition in this building project. By way of an exciting PowerPoint presentation, the staff viewed scores of newspaper clippings referring to the vehement efforts of local humanists to stop the project on three different occasions, beginning nearly 8 years ago. But Ken, not dwelling on that, quickly moved on to share a positive message with the staff: that just as the people of Nehemiah's time praised the Creator (Neh. 9:6) for His blessings on their building project, we praise Him as well for His provision in 2004.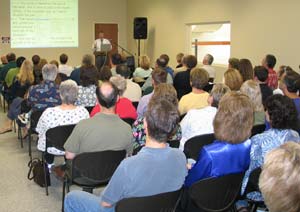 Ken also made two other comparisons to the Nehemiah account. Nehemiah's wall was intended for protection, and AiG today is attempting to put up "walls" of protection against a compromise regarding biblical authority, starting from the very first verse. And, Ken noted, a wall can also represent a foundation, and AiG is attempting to rebuild the foundations of God's Word in this culture (and also in a largely compromising church).
AiG's new 95,000 square-foot building will eventually become the home of the Creation Museum (which appears nearly finished from the outside but is still under construction on the inside). The museum is immediately adjacent to AiG's new HQ on Bullittsburg Road near Petersburg, Kentucky.
Only a few days ago, AiG staff had to work in less-than-satisfactory conditions, with heating and air problems, leaking roofs, a bug problem (due to a recycling company next door to the main building we had been leasing, which attracted all kinds of bugs) and other challenges. But now God has blessed us with a facility that is sure to make AiG more efficient and productive in its various creation/gospel outreaches.
During last week's orientation meeting, Ken gave special praise to Mike Zovath and the AiG museum team for overseeing this complex building project, and asked that the staff now pray for the next big event for the team: the completion of the Creation Museum (with a faith-target opening date of spring, 2007).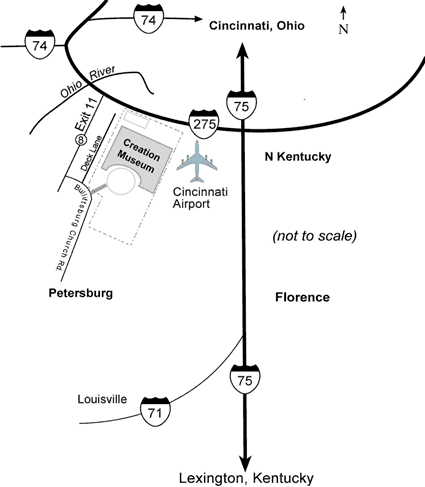 AiG's new street address is now 2800 Bullittsburg Church Road, Petersburg, KY 41080, with the preferred mailing address being PO Box 510, Hebron, KY 41048 (where the post office is larger than Petersburg's). Our former Florence, Kentucky PO Box will still be in use, as well as AiG's various phone numbers. A temporary AiG bookstore in the new offices opens on Monday, September 13 (call 859-727-2222 ext. 400 to verify this), from 9:00am-5:00pm.
Please rejoice with us in how God, in His grace, has given us this wonderful new facility. And we sincerely thank the AiG supporters who have raised $13.4 million to get us this far, with $11.6 million to go.
Please pray that He will continue to bless the planning, designing and fundraising for the Creation Museum that is being built right next to our new headquarters, and that the glitches of moving into this wonderful new HQ will be few. Thank you.
You can take a virtual tour of the new offices by going to www.CreationMuseum.org and see for yourself how God has blessed this project.