In anticipation of the soon-to-open Creation Museum, the web team today is unveiling a completely re-designed website. As our goal is to present the truth of God's Word in the most relevant, cutting-edge way possible, we think that you will agree that this new website is as exciting as the exhibits themselves.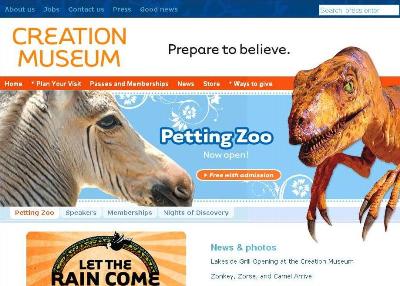 New features
The transformation is not just skin-deep (although we did spend a great deal of time making the site attractive). You will also find a variety of useful features to help you plan your visit, keep track of news and events at the museum, and receive web-only discounts.
On the front page, you'll find our hours of operation, ticket prices, and news and photos from the museum. You will also find important information about partnering with the Creation Museum and Answers in Genesis in presenting the truth of the Bible and the gospel to thousands of people every year.
When you are ready to visit the museum, choose the "Plan your visit" menu option. There you will find an interactive map that will show you how to get to the Creation Museum and the location of a variety of other local attractions and hotels. Be sure to check this out when making travel arrangements, as we have special discounts for our guests.
To keep up with the events at the museum, you can subscribe to the Creation Museum calendar via the new website. This calendar will update you automatically on upcoming exhibits, attractions, and presentations.
Update: The site and the museum are now both operational. We hope that you are considering a vacation to see the exciting exhibits soon.