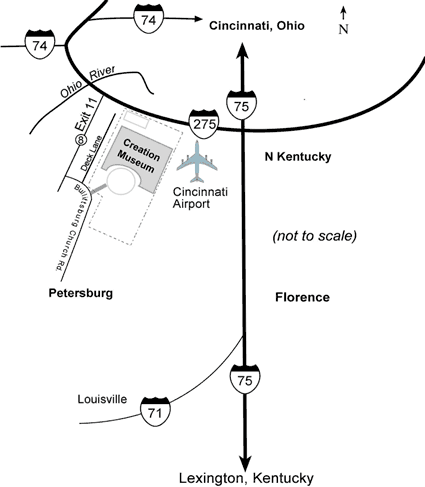 No, Answers in Genesis–USA is not moving to Russia or Florida, but to the lesser-known Northern Kentucky city of Petersburg—twenty-five minutes west of the current offices in Florence, Kentucky (and just two exits west of the major Greater Cincinnati Airport). AiG–USA, which is growing fast, should be fully operational in its new headquarters by Wednesday, 8 September!
Over the months, the growing staff of AiG–USA has been patiently working out of four different leased buildings. It comes as no surprise that each one is eagerly looking forward to all of us being under one roof in the building adjacent to the Creation Museum (under construction).
As God blesses, AiG should now be even more effective in outreach to the USA and beyond—and with the added financial bonus of having no more lease money to pay on four buildings. Through the generosity of our supporters, God has given us a new facility to more efficiently proclaim the creation/gospel message.
Please make note of our new street address of 2800 Bullittsburg Church Road, Petersburg, KY 41080, USA. (By the way, if you have some of our 'courtesy reply envelopes' on hand with our P.O. Box in Florence, KY printed on them, please know that these envelopes can still be used—that box will remain open for a time.) The best mailing address to use will be AiG, P.O. Box 510, Hebron, KY 41048.
After 7 September, visitors are welcome to drop by and visit AiG in Petersburg (which is very close to the point on the map where the three states of Kentucky, Ohio and Indiana come together). A special open house is being planned in the fall—details will be posted on this website soon.
AiG's phone number of (859) 727-2222 (our general number) and our customer service numbers will not change.
Please pray for AiG in America as the staff settles into the new facility, and that God will bless the ongoing logistical aspects of the move (which should be concluded by 9am, Wednesday morning, 8 September).