AiG–USA was prominently featured by its hometown newspaper, The Cincinnati Enquirer, on Sunday June 25, with the paper inquiring about developments in the designing of AiG's Creation Museum and Family Discovery Center to be built in the Cincinnati/Northern Kentucky area.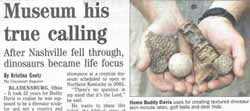 In this particular story, the ministry of AiG's Buddy Davis was profiled (with full-color photos). Buddy is a key player in the museum's exhibit design. To be constructed on 47 acres just purchased, the museum will be a visual tour of biblical history from the Bible's very first verse.
A major part of the Creation Museum, which may have phase one open by the summer of 2002, will be the large collection of Buddy's dinosaur models, built in his large workshop in central Ohio. With a background in taxidermy, Buddy told the newspaper that he was encouraged by his young cousin to give dinosaur sculpting a try. He then saw how his artistic talents could be used in a ministry. He told the Enquirer that he wanted to share "the biblical story of the creation of the world described in the book of Genesis … [and] believes dinosaurs and humans coexisted, not millions of years, but just 6,000 years ago." He has built 60 models so far, and most of them will find a permanent home in the Creation Museum.
Buddy shared with the paper that the sculpting of his large dinosaur models (his T-rex under construction will be over 40-feet long) is based on a great deal of research (e.g., studying dinosaur skeletons and referring to his collection of over 100 dinosaur books). On June 10, about 775 guests marveled at his 18 models on temporary display at AiG's Florence, Kentucky, warehouse, and many commented on the superb craftsmanship of Buddy's sculptings.
Groundbreaking for the museum is planned for March 15, 2001. Already, the major architectural firm of A.M. Kinney Associates has been working with AiG staff in planning the museum and headquarters complex. AiG is looking for other construction-related businesses and individuals in North America to join its building team, and to consider donating all or a portion of their services to this God-honoring and Bible-proclaiming outreach.
Buddy recognizes that dinosaurs are used by evolutionists perhaps more than any other teaching tool in an attempt to convince people (especially young people) that evolution is true, but he desires to show how the Bible has the better explanation for the "mysteries" surrounding dinosaurs.