Creation Museum Members—the Insiders
Been there, done that? Not with a Creation Museum membership! Changing events and exhibits make the Creation Museum the place to be over and over again. Membership is a cost-effective way to bring your family back to explore new features and exciting programs while supporting this evangelistic biblical-authority ministry.
If you haven't already joined the hundreds of individuals and families who partner with us through membership, you may want to check out the many benefits. For starters, whether you hold a premium annual pass, five-year membership, or a lifetime membership, a portion of that revenue supports the "Membership with a Mission" program to develop new museum features. The first project will be a creepy crawly exhibit of insects, which is already more than halfway funded.
Of course, Creation Museum members get more than just unlimited general admission. You also receive free admission to a Planetarium show each time you visit, plus access to an array of members-only events such as a fossil hunt, family fishing and camping, archery workshop, and stargazer's events. This is in addition to the discounted tickets that members receive every day on workshops offered at the museum, from an encounter with live reptiles called Snakes Alive to a bone biology workshop called Osteoblast!
No matter how often you visit, you will always find a journey back through history, avenues for learning about God's creation, and a strengthening of your faith at the Creation Museum. Visit the members section of the Creation Museum website to find out more.
Read Through the Creation Museum
Did you see our new "Tour of the Creation Museum" article series on the AiG website in September? If you're interested in learning more about the history of the museum and its exhibits, you can read the introduction and then see the articles we've published so far. We're taking a break from the series for now, but this informative tour will be continued later in the year, so stay tuned.
In Store: Journey Through the Everglades with Buddy Davis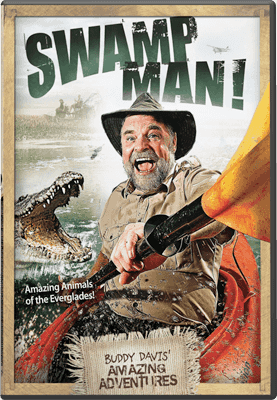 Gators, snapping turtles, and snakes—oh my! Explore the Everglades via Buddy Davis' Amazing Adventures DVD, Swamp Man!
Meet the amazing variety of animals that thrive in the subtropical wetlands of Florida, from elegant cranes to clever dolphins and manatees. As your able and entertaining guide, Buddy Davis takes you up close and personal to these creatures and habitats, whether by muddy hikes, all-terrain vehicles, or flat-bottom boats.
Swamp Man! is available as a DVD or video download. The DVD includes a full-color 11x17 poster and fun bonus features. Sing along to Buddy Davis' animated music video "God Made Me to Be a Swamp Man." Play the "Nightmare Pass Adventure Game." Or laugh at the outtakes that give a glimpse into the producing of this one-of-a-kind journey.
The whole family will enjoy this faith-building exploration of the Everglades.
Question of the Month
Why doesn't the Creation Museum allow comments on its YouTube videos? And what's the point of banning people from your Facebook pages and deleting their comments?
With the social media clamor over Bill Nye's statements against teaching children creation, these questions have come up repeatedly, especially from defenders of Bill Nye. Their hostile reaction was particularly vicious on the Facebook page of AiG staff scientist Dr. Georgia Purdom, who along with Dr. David Menton had posted a video rebuttal, "Bill Nye, Creationism is Highly Appropriate for our Children." Dr. Purdom noted on her blog that most of the Facebook comments committed the ad hominem fallacy, attacking the person rather than dealing with the argument at hand. Many of the comments included profane and crude language.
So why wouldn't AiG allow a free, open discussion on its YouTube videos and Facebook pages? As a Christian ministry, AiG seeks to follow biblical communication principles, including the following:
Do not engage those who despise the truth (Proverbs 23:9; Matthew 7:6).
Avoid "foolish and ignorant disputes" (2 Timothy 2:14, 16, 23–26; 1 Timothy 6:4–5; Titus 3:9–11).
Speak graciously to build up the listeners (Ephesians 4:29; Colossians 4:6; 1 Peter 3:15).
In respect for the truth and gracious communication, YouTube ratings and comments are disabled, and Facebook pages are moderated. Other sites are available as public forums for debate. Those who have a specific issue to discuss with AiG in a serious and respectful manner are welcome to contact us in private.
In Ken Ham's second response YouTube video, "Ken Ham Responds to Intolerant Bill Nye Defenders," he pointed out that evolutionists responded viciously because they feel threatened by the truth of the Creator. The Bible says all people inherently know God exists, yet they "suppress the truth in unrighteousness" (Romans 1:18–22). After proclaiming the familiar gospel message of John 3:16, Jesus warned that many would be condemned through willful unbelief and love of darkness:
For God so loved the world that He gave His only begotten Son, that whoever believes in Him should not perish but have everlasting life. For God did not send His Son into the world to condemn the world, but that the world through Him might be saved. He who believes in Him is not condemned; but he who does not believe is condemned already, because he has not believed in the name of the only begotten Son of God. And this is the condemnation, that the light has come into the world, and men loved darkness rather than light, because their deeds were evil. For everyone practicing evil hates the light and does not come to the light, lest his deeds should be exposed. (John 3:16–20)
(Have a question for InSite? Let us know! Be sure to mention that your question is intended for InSite.)
Did You Know?
After Bill Nye's YouTube video swipe against teaching children about creation, AiG has posted the following responses:
Prepare yourself to give an answer with these resources!